EV powertrains for India and similar emerging markets of South Asia, Africa & South America have to be built super-rugged to perform well in tough weather, road and usage conditions. Not just that, they also have to compete in price and performance with fossil fuel vehicles, in order to see accelerated customer adoption. All of these pose interesting challenges and opportunities for Indian EV makers.
What's under the hood?
While most electric cars look similar on the outside to their fossil fuel-powered counterparts, underneath the hood things are very different. The electric powertrain is fundamentally superior to an internal combustion engine (ICE). It has one or more motors that produce motion by taking electric energy from the battery, without generating significant heat! With more torque at lower speeds, an electric car
gives more acceleration than a comparable ICE vehicle.
Did you know that, unlike your petrol or diesel car that gives you fewer km to the liter in city driving vs on the highway, the electric vehicle can actually deliver better "fuel economy" in the city due to regenerative braking? As EVs can harvest energy from braking, most of the kinetic energy spent to accelerate when the light turns green is recaptured at the next red light.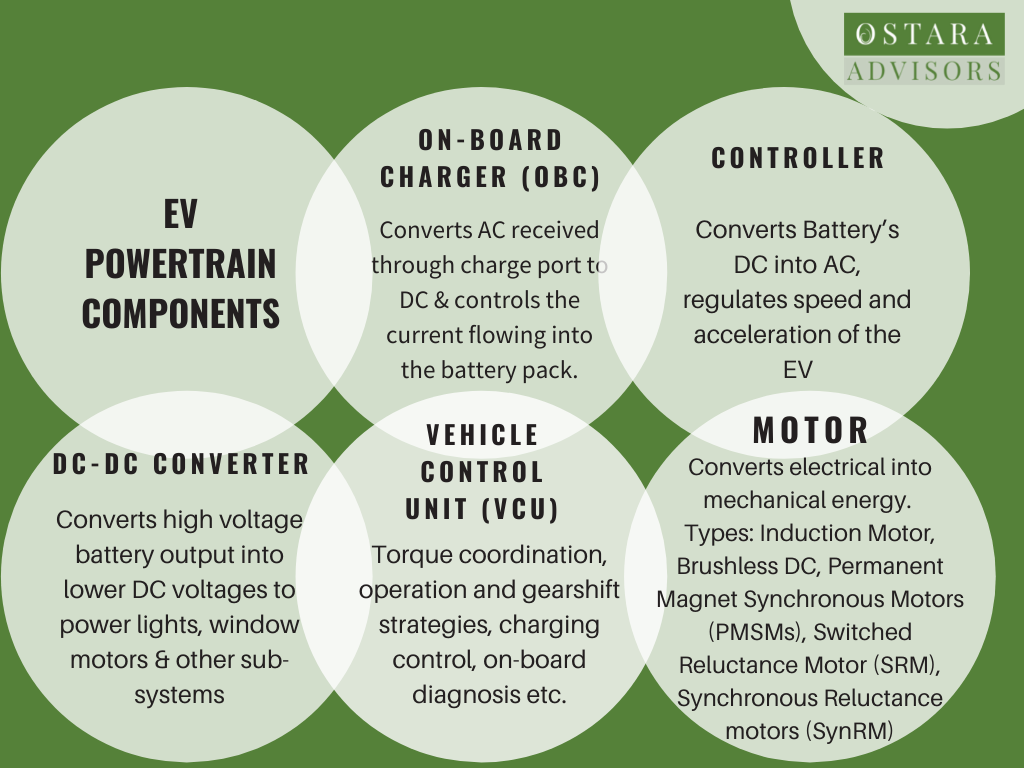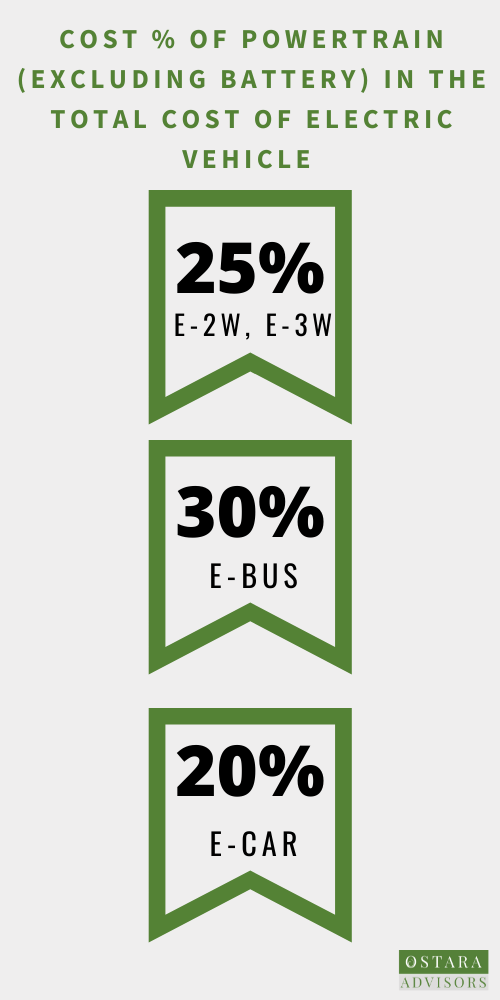 Source: EV Reporter- EV components, CEEW-India's-EV-Transition-Post-COVID-19-22Dec20, Avendus EV Report, https://www.innovativeautomation.com/the-electric-vehicle-drivetrain/
Understanding the Motor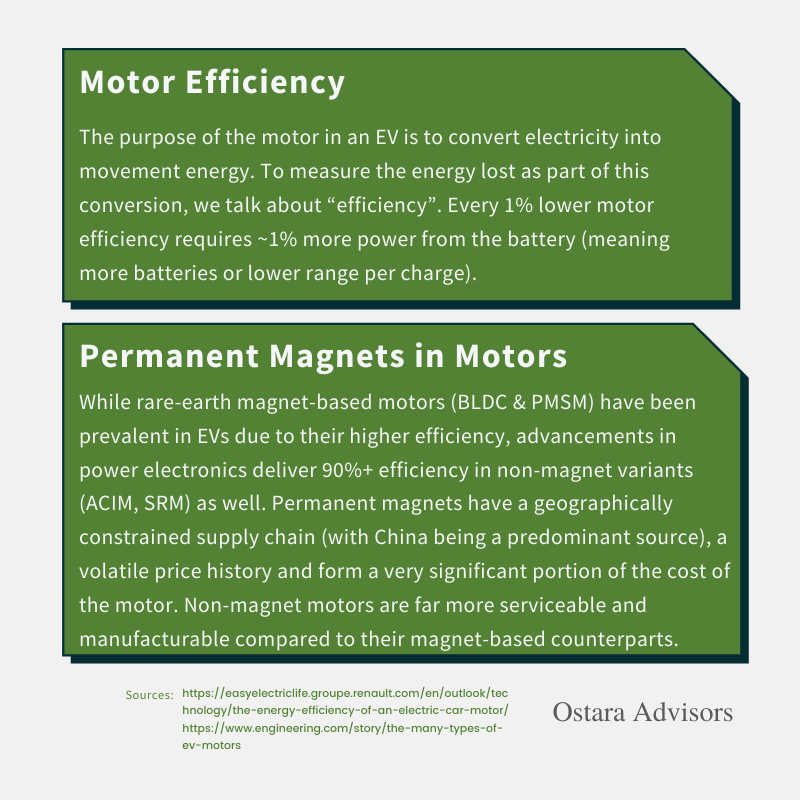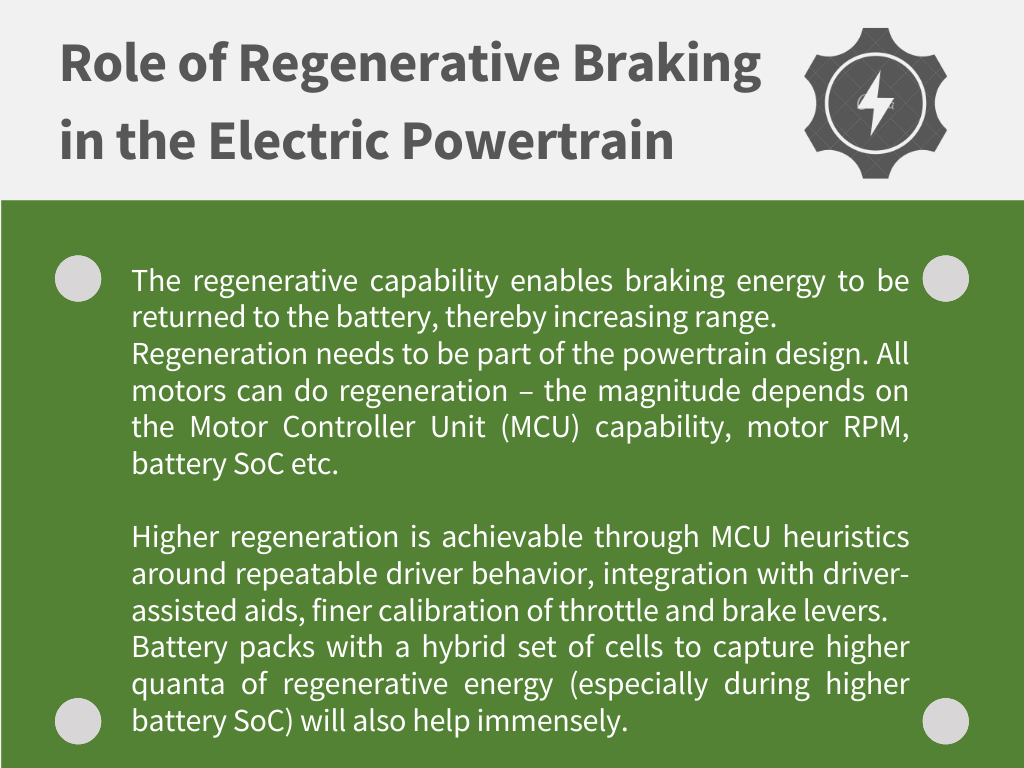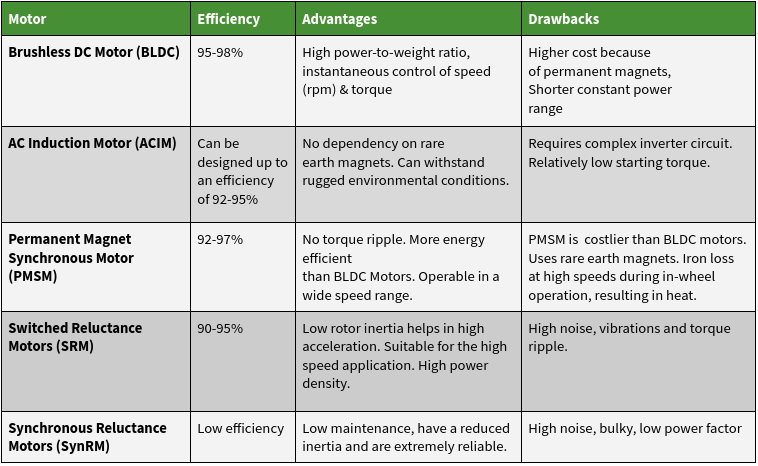 Sources:
https://circuitdigest.com/article/different-types-of-motors-used-in-electric-vehicles-ev; https://gomechanic.in/blog/electric-vehicles-types-explained/ ; https://www.mdpi.com/1996-1073/13/4/1004/ ; https://www.ee.co.za/article/advantages-synchronous-reluctance-motor.html ; https://insights.globalspec.com/article/14597/switched-reluctance-motors-for-electric-vehicles ; https://www.mdpi.com/2071-1050/13/2/729/pdf,https://www.mdpi.com/1996-1073/12/11/2190/pdf
Powertrain Market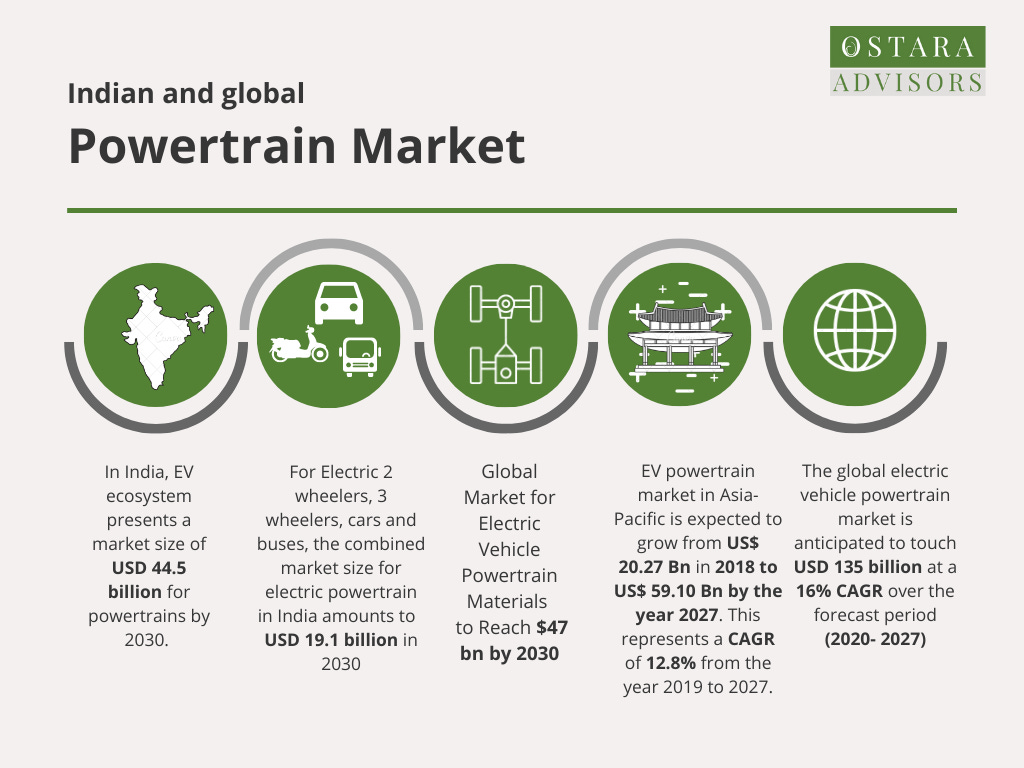 Source:Avendus EV Report , Ostara Advisors Estimates, globenewswire.com/Electric-Vehicle-Powertrain-Market-to-touch-USD-135-billion-by-2027-Market-Research-Future-MRFR.html,mordorintelligence.com/industry-reports/electric-vehicle-powertrain-market,researchandmarkets.com/reports/asia-pacific-ev-powertrain-market-to-2027,CEEW-India's-EV-Transition-Post-COVID-19-22Dec20.pdf,eqmagpro.com/market-for-electric-vehicle-powertrain-materials-to-reach-47-bn-by-2030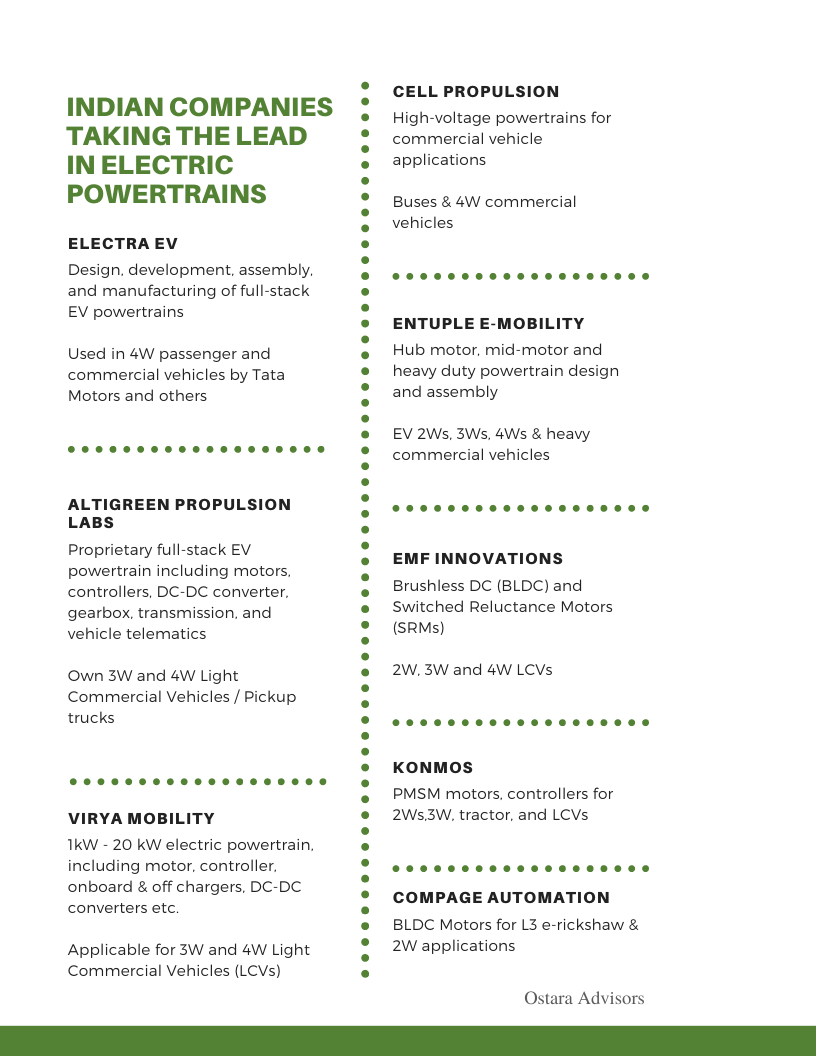 Source :https://evreporter.com/ev-powertrain-components-manufacturers-in-india/, Individual Company websites
Top 4 global trends in EV powertrain technology
Use of silicon carbide transistors in inverters. Use of insulated-gate bipolar transistors, or IGBTs, in inverters in advanced e-powertrain designs bring in cost efficiency at high volumes, wide availability, and operational efficiency. Customized inverters with silicon-carbide metal-oxide-semiconductor field-effect transistors (SiC MOSFET) are even more efficient and can provide significant opportunities to optimize the e-powertrain system—for e.g., downsizing the thermal management system.
Smart thermal management. These systems, which connect the battery, electric motor (e-motor), inverter, and cabin, have become the standard architecture for state-of-the-art BEVs. These systems enable vehicle components to maintain optimal temperatures, regulate heat flows, and maintain energy efficiency. Overall system costs can be further reduced if vehicles can use heat from their e-motors or inverters, eliminating the need for a separate heater.
Submerged oil cooling of the e-motor. Many vehicles cool their e-motors via liquid-cooling jackets because it's a low-cost solution. But another solution, oil cooling, enables a higher peak power at lower cost. Oil cooling also provides the packaging advantages of a slimmer motor, since an outer shell is not required. Models that use oil cooling can reach a peak power of 211 kilowatts (kW),whereas models which are cooled by a liquid jacket, only reach up to 160 kW
Integrated onboard charger and converter of direct current-to-direct current. An integrated direct current-to-direct current (DC–DC) converter and onboard charger (OBC) unit can significantly reduce costs through the integration of physical and functional components,the cost of a single DC–DC and OBC unit is 19 percent lower than the cost of having two separate units.
Source: https://theicct.org/sites/default/files/publications/Battery-capacity-ev-india-feb2021.pdf, https://www.mckinsey.com/industries/automotive-and-assembly/our-insights/winning-the-chinese-bev-market-how-leading-international-oems-compete
Powertrain Investments & deals
INDIA
GLOBAL
EV Investment & deals
EV Sales tracker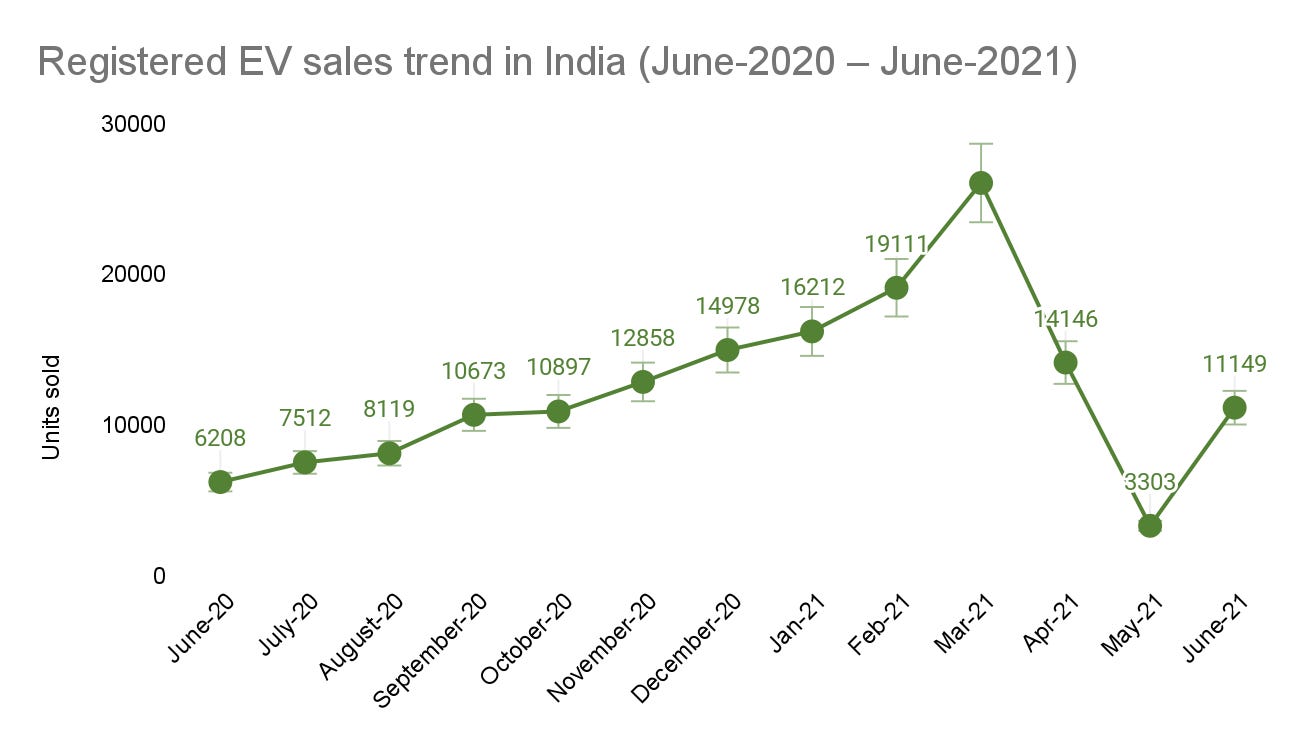 Source: jmk research-monthly-ev-update-JUNE-2021
Credits: We would like to thank Dr. Amitabh Saran, Co-Founder, Altigreen Propulsion Labs for his inputs on challenges and opportunities for Indian EV powertrain makers.
About Ostara Advisors:
Ostara Advisors (formerly Dhruva Advisors) is India's first e-mobility and sustainability-focused boutique investment banking firm. Our focus sectors are Electric Vehicles, IoT & Automation, CleanTech, and Renewable Energy. The firm was founded in 2015 by Vasudha Madhavan, who is one of the first investment bankers in India to specialise in Electric Mobility. Marquee deals include advising on India's first Electric Vehicle two-wheeler M&A, where she represented Greaves Cotton Ltd. on their acquisition of pioneering EV 2W maker, Ampere Vehicles.
CopyrightOstara Advisors 2021, All rights reserved Bangalore, India