Micro-mobility: a quick overview
Micro-mobility vehicles refer to a range of small, lightweight vehicles operating at a speed of not more than 25 km/h (15 miles/h) and considered ideal for commuting within a 10 km range. These vehicles include e-bicycles (e-Bikes), e-kickscooters, skateboards and others.
These vehicles do not require the rider to be licensed or insured, and are uniquely adaptable to urban and rural usage. In congested and slow city traffic, they use less space on the roads and when parked, and are well-suited for shared mobility. For the semi-urban and rural consumer in India, these vehicles offer the most affordable option for personal mobility.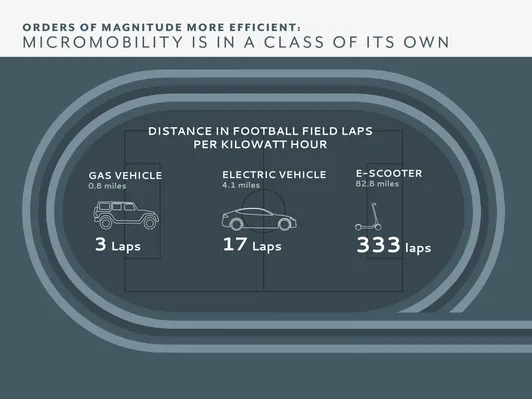 Source: CB Insights
The Global Micromobility market:
With over 300 million electric bicycles (e-Bikes) in use in China, over 230 million two-wheelers in India, 72 million bicycles in Japan, 40 million in Brazil and over 100 million in the U.S., there are more microvehicles in use than there are cars. With electrification, connectivity, and software injections, these uncounted and largely unmeasured categories are gaining superpowers. It all happened so quickly.Given the growing number of brands and models in electric kick scooters and electric bicycles as well as rental and sharing services using these vehicles, the micro-mobility market size is expected to surpass around US$ 198.03 bn by 2030, growing at a CAGR of 17% from 2021 to 2030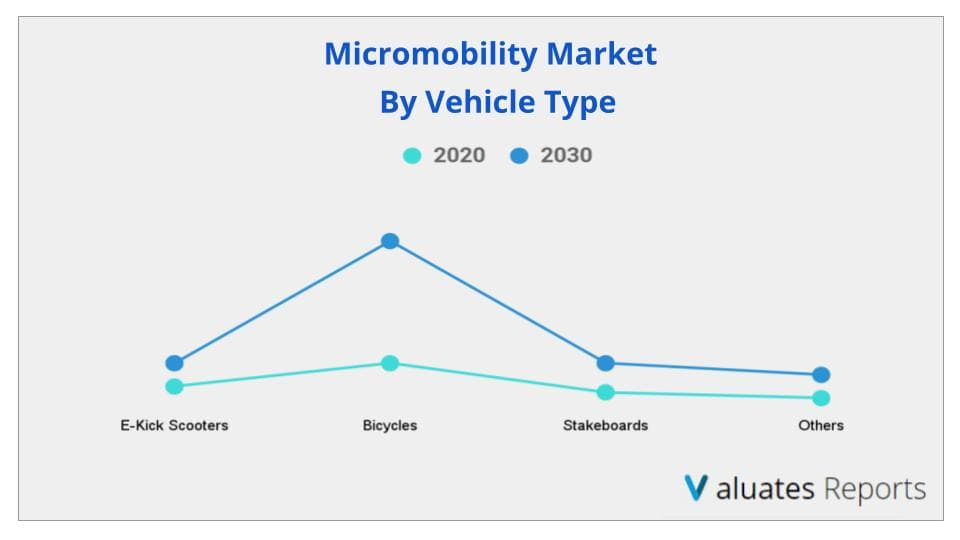 Factors accounting for this growth:
In many countries, 50-60% of all trips tend to be under 10 miles.
There is consistent rise in urban population and increasing congestion on the roads.
There is greater availability of e-bike and e-kickscooter models that offer longer battery life and faster charging times.
Regulatory push towards adoption of clean mobility through demand subsidies in most major markets around the world
How Micro-mobility is replacing other modes of transportation:
A new study shows that shared micro-mobility vehicles are more likely to replace public transport, while personally owned micro mobility vehicles are more likely to replace driving and public transport for the daily commute . Confirming earlier research, the study also finds that the lifecycle emissions of sharing an ebike/e-scooter are higher than owning one.
Transport modes that micro-mobility replaces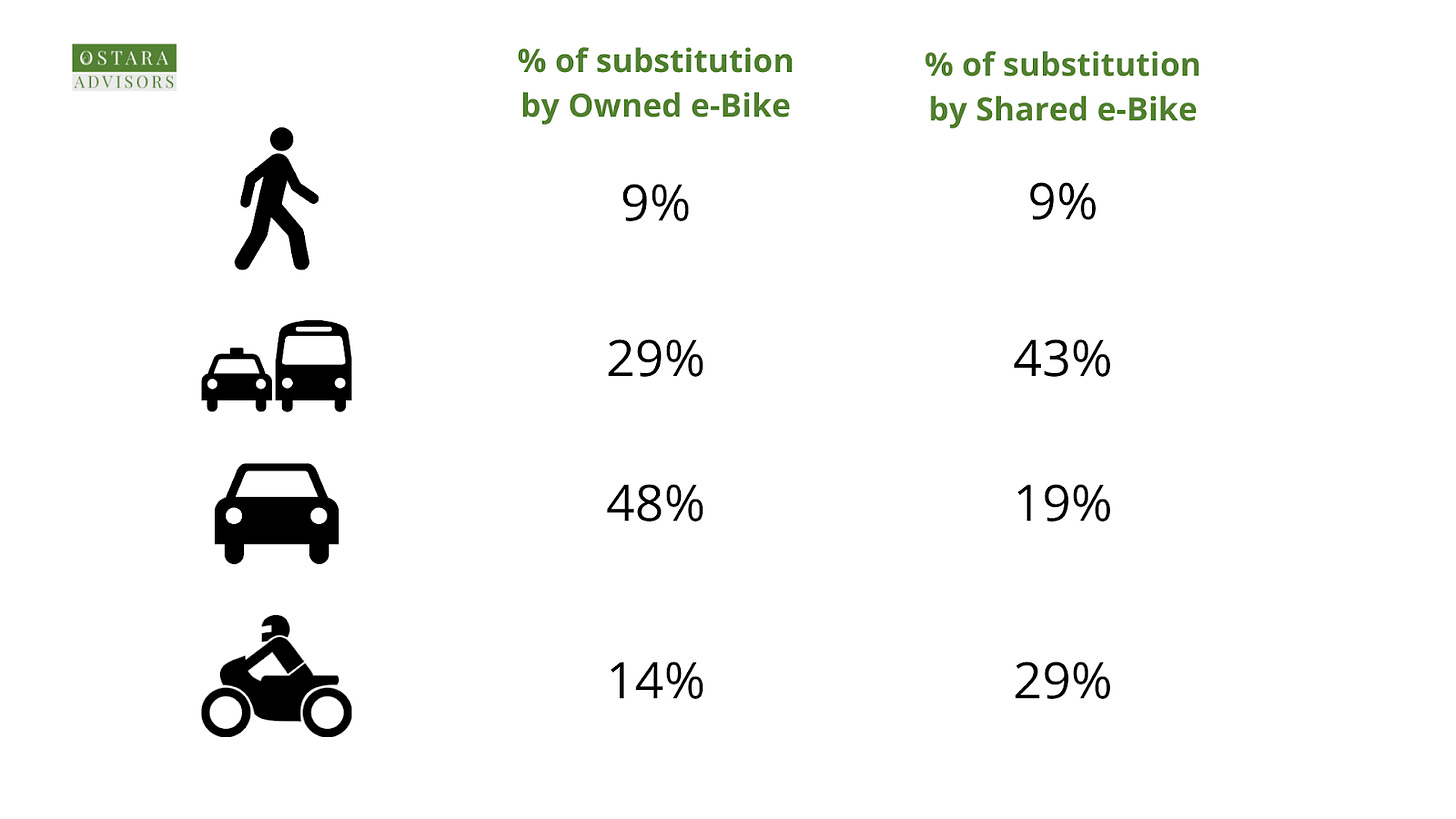 Preference for Owned and Shared Micro-mobility:
McKinsey conducted a survey of over 7000 respondents across 7 key global markets in mid-2020 to understand the impact of the pandemic on micro mobility usage.
The findings showed that post the pandemic, Personal (owned) micro-mobility is likely to be equally popular with 18-34 as well as 35-54 age-groups, while shared micro mobility is more popular with the 18-34 age group than with older age-groups.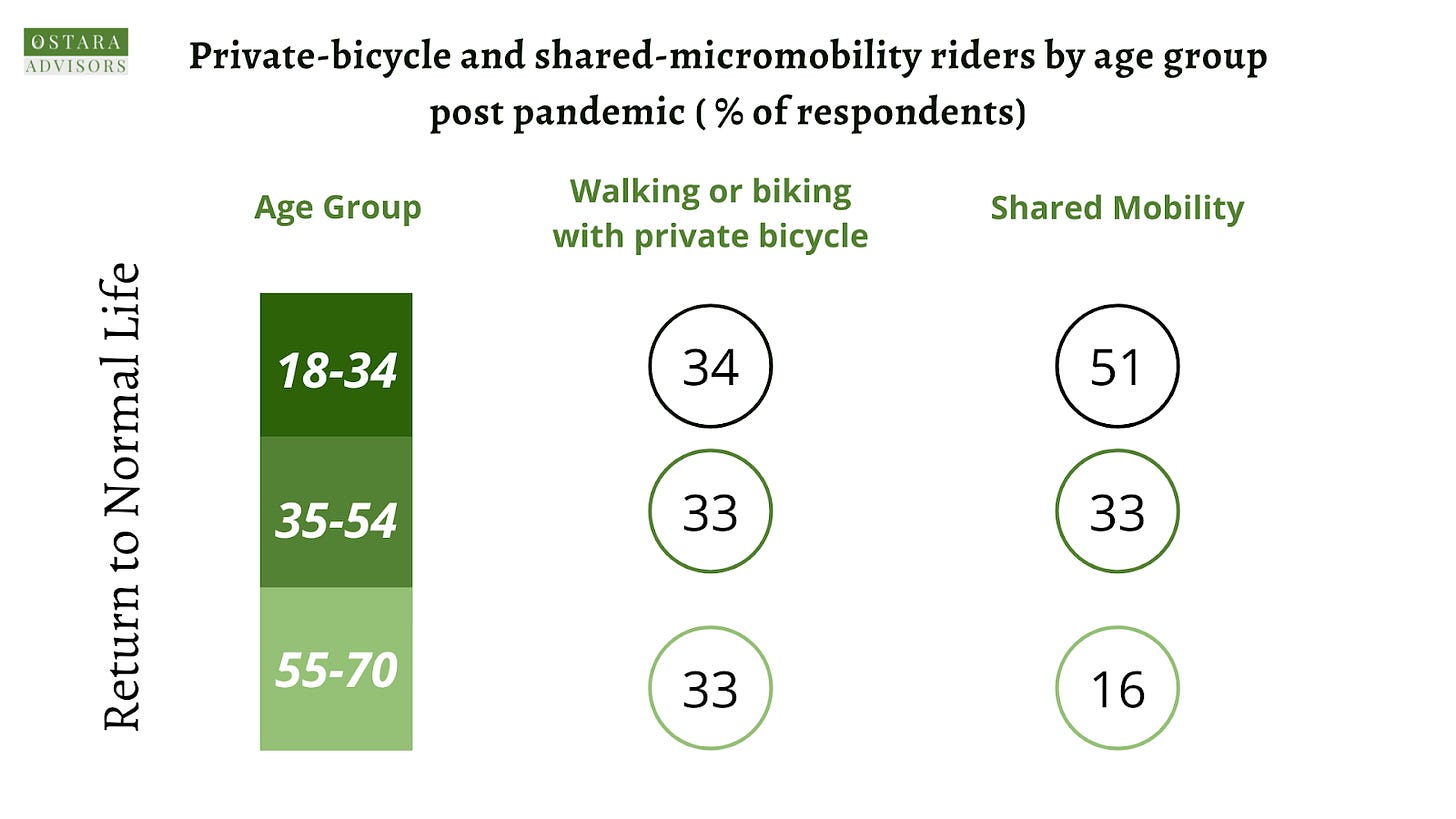 Global Trends in Direct-to-consumer (D2C) and Shared Mobility business models in Micro Mobility
Given the post-pandemic trend towards more personal mobility, customers prefer owning electric bikes and scooters instead of using shared mobility programs.
In Europe, for instance, direct-to-consumer (D2C) e-bike sales are set to reach 17M units sold annually by 2030, up from 3.7M in 2019. Electric bike sales in the US, meanwhile, grew 145% between 2019 and 2020, according to NPD Group.
Bird launched an e-bike in August 2021. Called the "Bird Bike," it costs $2.3K and will initially be available in the US. In 2020, the company launched the Bird Air, a foldable electric scooter at a cheaper price point, as it looked for ways to grow revenue and cut losses.
Veo is a scooter-sharing business that sells e-scooters directly to consumers. The company launched its personal-use Astro Go scooter in August 2020 in response to depressed demand for its shared options during Covid-19.
Tony Ho, vice president of Segway's global business development, says the company is seeing a big jump in demand for e-bikes from micro mobility companies, as well. Segway has been known to supply e-scooters and e-bikes to most of the giants of shared micromobility, such as Lime and Bird.
Investors and startups have been quick to react to this demand. VanMoof, a Netherlands-based e-bike company, raised a $128M Series C in September 2021.
One global estimate shows the market size for e-Bikes and e-Mopeds in key markets like Europe, USA, China and India to be 120 million units in the year 2035!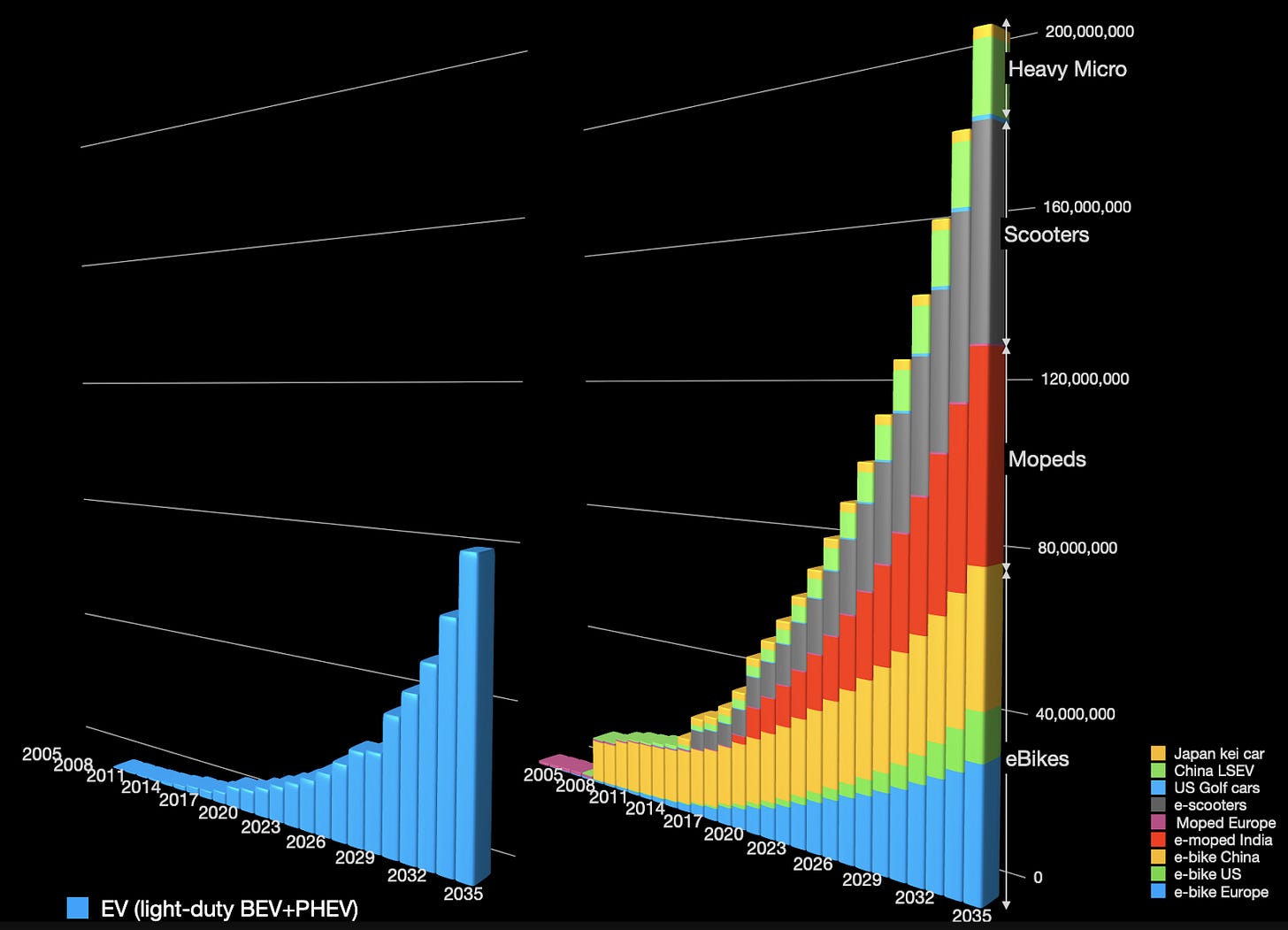 Govt Regulations for Micro-mobility across the globe
Micro-mobility Regulation in Europe:
European Union regulation N°168/2013 established the L-category vehicles as a reference for member countries. The category uses power, power source, speed, length, width and height as classification criteria. Relevant categorisation of Micro-mobility EVs in Europe is as below::
L1e-A powered cycle: An e-bike equipped with auxiliary propulsion with a maximum speed of 25 km/h and a net power between 250 watts and 1000 watts. This category includes lowp-owered throttle-only electric bikes.
L1e-B two-wheel moped: any two-wheeler with a speed of more than 25 km/h and up to 45 km/h and a net power of up to 4000 watts.
Micro-mobility Regulation in the United States:
In the United States, vehicles such as e-bikes and e-scooters are predominantly regulated at state level. State-by-state legislation is being passed which distinguishes e-scooters and e-bikes from mopeds and other motor vehicles, thus enabling the use of bike lanes, and avoiding requirements for licensing and registration (NCSL, 2019).
For the use of e-bikes, state regulations typically impose that an e-bike falls within one of the following three classes:
Class 1 electric bicycle: a bicycle equipped with a motor that provides assistance only when the rider is pedalling, and that ceases to provide assistance when the bicycle reaches the speed of 20 mph (32 km/h).
Class 2 electric bicycle: a bicycle equipped with a motor that may be used exclusively to propel the bicycle, and that is not capable of providing assistance when the bicycle reaches the speed of 20 mph (32 km/h).
Class 3 electric bicycle: a bicycle equipped with a motor that provides assistance only when the rider is pedalling, and that ceases to provide assistance when the bicycle reaches the speed of 28 mph (45 km/h) and is equipped with a speedometer.
Increasing role of micro-mobility in India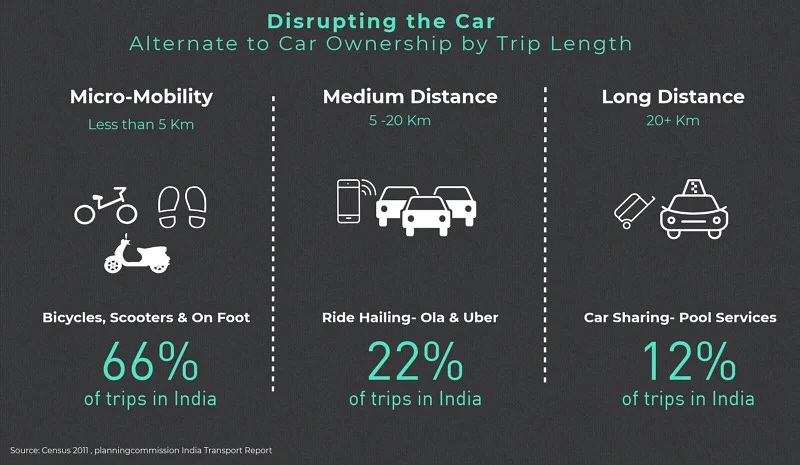 The middle-class population in cities is primarily dependent on public transport, and due to the pandemic, is being forced to look at alternative 'affordable' and 'safe' transport options. Micro-mobility EVs stand to gain from this trend.
Shared micro-mobility solutions may be the key factor towards introducing affordable, zero-emission, and car-free transportation options to communities that otherwise may not have access to them.
Micro-mobility is uniquely suited both to home & top-up public charging (thanks to removable light-weight batteries) as well as battery swapping solutions.
Micro-mobility vehicles can supplement public transportation by providing last mile connectivity for short distances.
Certification rules in India:
In general, every electric vehicle in India has to get the Automotive Research Association of India (ARAI) approval. Testing requirements depend on the vehicle category and technical specifications.
High-speed vehicles need to go through a full testing process following CMVR rules, whereas a Micro-mobility EV including e-bikes and e-moped, as defined below, are not categorised as 'motor vehicles' under Indian law and hence, are exempt from licence and registration requirements.
One or more electric motor with power of less than 250W
Maximum speed of 25 kilometre per hour
Recent deals in the Micro-mobility sector in India:
Venture Capital: Mumbai based bicycle maker, Ninety One Cycles, in December 2021, raised USD 29.6M in a Series A round, led by venture fund A91 Partners, along with existing investors Fireside Ventures, Avaana Capital and Titan Capital.
Acquisition: TVS Motor Company, the flagship firm of the $8.5-billion TVS Group, has acquired a 75% stake in Swiss e-Mobility Group (SEMG) for $100 million (about Rs 752 crore) in January 2022. This is the company's second acquisition in Switzerland in the e-mobility space during the current financial year, after buying 80 per cent in EGO Movement for $17.9 million in September 2021. The company is planning to launch SEMG brands — Cilo, Simpel, Allegro, and Zenith — in India by the end of 2022.