The Ostara Newsletter turns 2!
Yes, this month marks the 25th monthly edition of "All about EVs", a newsletter we launched in May 2021 to foster a conversation among investors about the Clean Mobility ecosystem in India. Little did we foresee the impact it would have and the number of people it would reach. It's remarkable to note that we've gained close to 30,000 views so far on our editions! Some of the most read editions include 2022: The Ostara Rewind, The Indian EV Ecosystem in 2022, EV Retrofitting among others. Even more heartening is the love and appreciation this newsletter has received. Thank you all!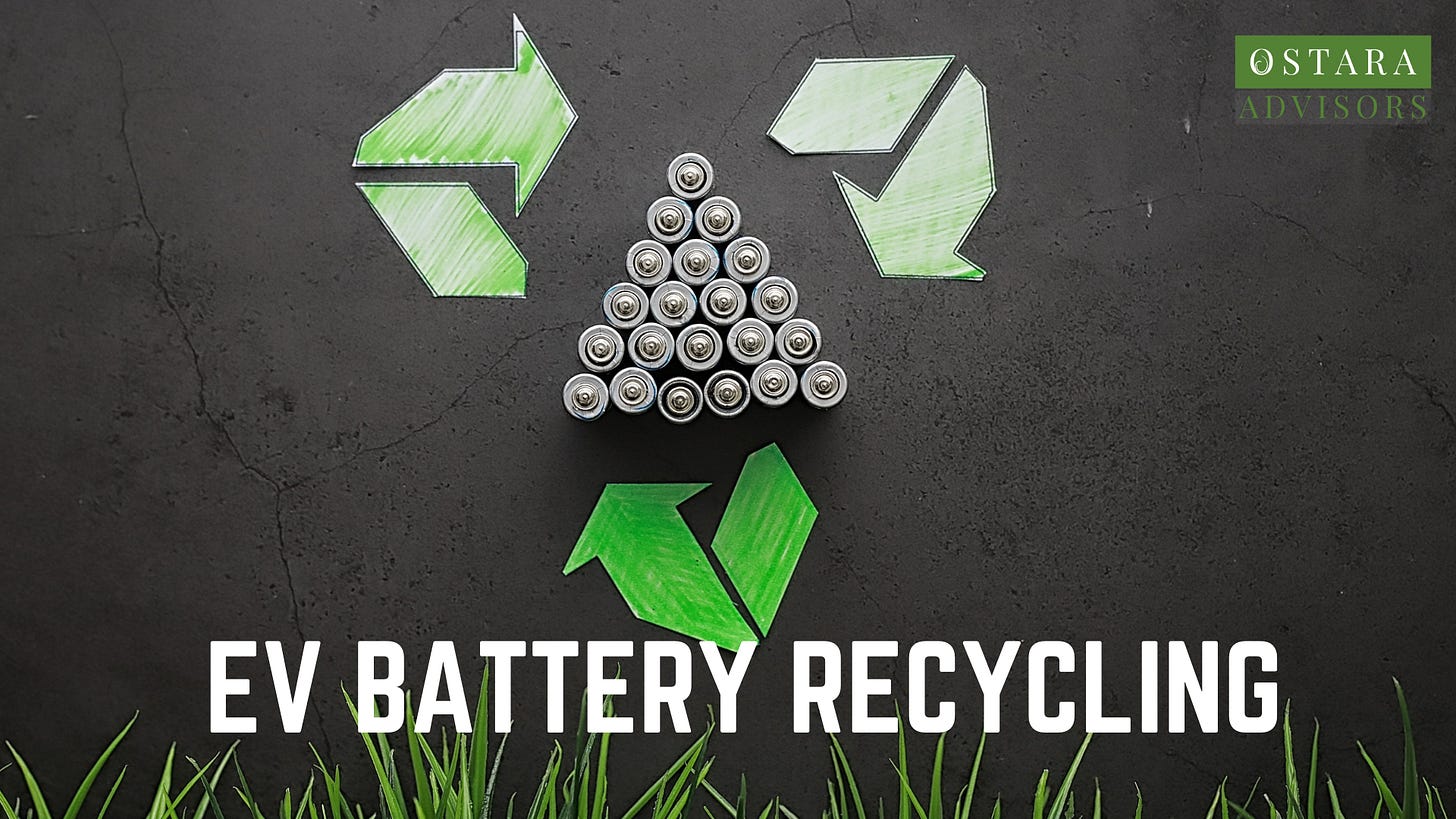 On with our topic for this month, Battery Recycling! We are doing a two-part series on this topic. Watch out for more on this next month as well.
Why recycle EV batteries?
Imagine landfills being filled to the brim with used EV batteries! It's barely sustainable given we don't have an infinite supply of battery materials like lithium, nickel, cobalt, etc.
With the EV revolution well underway, the amount of Lithium-ion EV batteries available for reuse each year in India may go well beyond 100 GWh by 2030. Researchers say that recycling could help avoid the buildup of hazardous battery waste and provide a valuable source of scarce battery materials while mitigating the environmental impact of additional mining.
Source: Advanced Energy
Source: knowable magazine
The Waste Management Hierarchy
Battery Repurposing is the first step in this hierarchy, where used cells or packs could be repackaged to be used for non-intensive tasks like powering street lights. This is based on the cell-level assessment of battery health.
The next step is to recycle the spent batteries that could not be repurposed. The EV batteries are manually disassembled to separate the plastic and metal parts (yes, it is quite labor-intensive but efficient too!). Next, the batteries are discharged before any further extraction, and the electricity recovered is used to run recycling processes (Nothing should be wasted after all!).
Once the battery is shredded, it's separated into groups: one of them being the crown jewel black mass, as suggested by the name it is the most sought-after thing by the companies for the presence of prized metals like Lithium, Nickel, and Cobalt, Copper, Manganese, Cadmium, etc.
This is followed by the extraction of pure battery materials from the black mass. using techniques such as pyrometallurgy, hydrometallurgy, among others.
Source: makeuseof
Why Repurpose Batteries?
Ideally, to ensure the smooth functioning of EVs, the battery should maintain 80% of total usable capacity and achieve a resting self-discharge rate of only about 5% over a 24-hour period. A failure of these conditions marks the end of the first life of an EV battery.

Repurposing involves assessing the State of Health of batteries, dismantling, reassembling, and repackaging for the new application.

Energy Storage is the most suitable application for second-life EV batteries:
It can provide reserve energy capacity to maintain power grid reliability
It can help defer transmission and distribution investments
It can help benefit from power-arbitrage opportunities by storing renewable power for use during periods of scarcity, thus providing greater grid flexibility.
Battery Material Extraction Technologies
The most common techniques include hydrometallurgy and pyrometallurgy.
Hydrometallurgical treatments involve the use of aqueous solutions to leach the desired metals from the cathode material. By far the most common combination of reagents reported is H2SO4/H2O2, it was found that leaching efficiency improved when H2O2 was added. Once leached, the metals may be recovered through a number of precipitation reactions controlled by manipulating the pH of the solution.
The pyrometallurgical process uses a high-temperature furnace to reduce the component metal oxides to an alloy of Co, Cu, Fe, and Ni. It follows that in this process there is typically no consideration given to the reclamation of the electrolytes and the plastics (~ 40–50% of the battery weight) or other components such as the lithium salts.
Direct recycling of lithium-ion is more efficient than classical methods because it recovers the functional cathode particle without decomposition into substituent elements or dissolution and precipitation of the whole particle. This process includes extraction of electrolyte with carbon dioxide, industrial shredding, electrode harvesting, froth flotation, cathode-healing and finally, building new cells with recycled cathode and anode.
A quick comparison of these technologies is presented below (thanks to the good folks at Speciale Invest for this)
Source: Speciale Invest, Science Direct, sae
Deals & Developments
May 2023: Lohum, a lithium-ion battery recycling firm, on Tuesday announced a partnership with insurance provider ACKO to incorporate recycling and reuse provisions in India's first-ever electric vehicle (EV) battery insurance.
April 2023: Gravita India Ltd. has successfully secured ESG Funds from prestigious European institutions.
Jan 2022: Lithium-ion battery recycling offers a $1,000 million opportunity by 2030, says JMK Research. The recycling market in India is expected to pick up from 2022 when batteries presently in use in EVs reach their end of life.
Ostara Update!
Our founder Vasudha Madhavan spoke on the Centre Stage at Asia's foremost Mobility and Energy Conference, Future Mobility Asia Exhibition & Summit 2023 Bangkok, Thailand on the 18th of May, 2023.