The past few months have put electric vehicles (EVs) in India in the spotlight for all the wrong reasons! Recent EV fires have raised concerns about the safety of the electric vehicles, with many companies coming under scrutiny. The good news is that this affords a great opportunity for the EV ecosystem to course-correct, invest into world-class indigenous engineering and R&D in the battery pack to enhance safety and performance.
To give you an idea of the EV Battery and its safety,  with the final issue of our 4-Part series on the Indian Charging Landscape,  we shine the spotlight on the Battery and the BMS. 
Lithium-ion Batteries – A Quick Refresher
Lithium-ion batteries are currently used in most electric vehicles because of their high energy per unit mass relative to other electrical energy storage systems. They also have a high power-to-weight ratio, high energy efficiency, good high-temperature performance, and low self-discharge. Two of the more commonly used lithium-ion chemistries are Nickel Manganese Cobalt (NMC) and Lithium Iron Phosphate (LFP).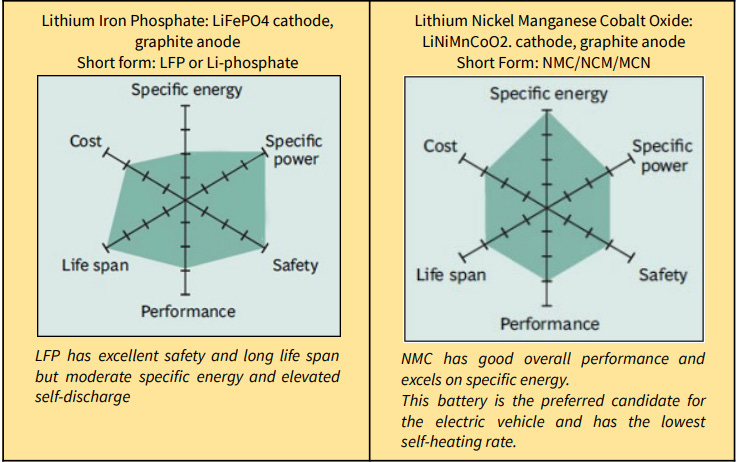 New BIS Battery Standards
Following recurring incidents of fire in electric vehicles, the Bureau of Indian Standards (BIS) has for the first time formulated performance standards for batteries used in electric vehicles. (We have shared a quick explainer on BIS in our Safe Charging edition )
On June 24, 2022, BIS published standards for Test Specifications for Lithium-ion Traction Battery Packs and Systems (Performance Testing) for EVs. The standard IS 17855: 2022 for these battery packs and systems is harmonized with ISO 12405-4: 2018, and incorporates the test procedure for basic characteristics of performance, reliability and electrical functionality for the battery packs and system for either high power or high energy application.
BMS
The Battery, given its criticality, requires the most care as it could become unstable beyond a certain high temperature andis susceptible to thermal runaway.
Thermal runaway happens when there is a huge current flow and the temperature of the cell and battery start rising rapidly. This rise in temperature can be caused due to many factors, such as thermal failure, mechanical failure, internal/external short circuiting, and electrochemical abuse. Conditions like these can harm the lifespan or the capacity of the battery. To ensure this does not happen, we require BMS to monitor its voltage and current.
The Role of BMS
The role of BMS can be categorised into three aspects: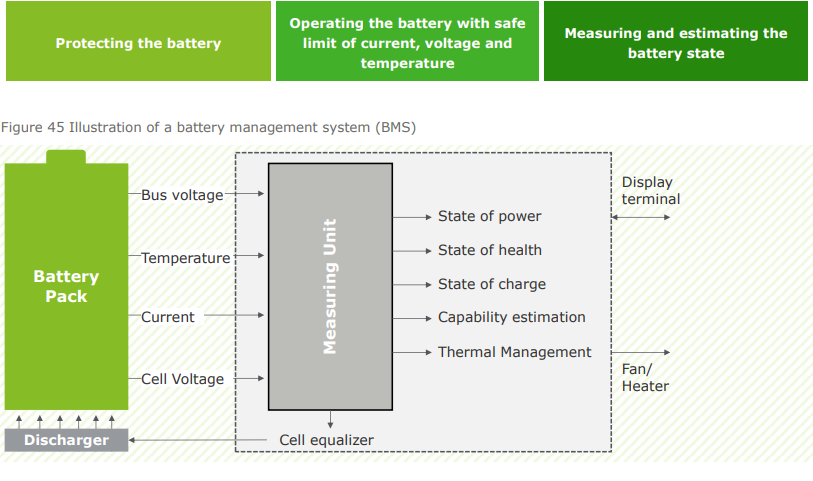 The key blocks of a BMS system are provided below:
Thermal Management Block: This block measures the battery temperature and accordingly initiates the cooling or heating operation to maintain the temperature within the optimal range. It also sends signals to ECU if the temperature goes beyond the allowable limit.

Measurement unit: The measurement unit tracks voltage, temperature, current at different places and the ambient temperature.

Capability estimation block: This block sends information regarding the safe charging/ discharging levels to ECU and the charger unit.

Cell equaliser block: It compares the highest and the lowest voltages across all the cells to apply balancing techniques

State of Health (SoH): State of Health (SOH) is a measure of the battery's ability to store and deliver electrical energy.

State of Charge (SoC): State of Charge (SOC) describes the level of charge of an electric battery relative to its capacity
Spotlight on The Tesla BMS
It is impossible to talk about EVs and not mention Tesla. Apart from designing battery powered vehicles, Tesla has also been using software to make the batteries more efficient. The BMS is a big part of achieving this efficiency.

Tesla's BMS has a unique design concept, adopting a master-slave architecture design. The master controller (BMU-Battery Management Unit) is responsible for functions such as insulation detection, high voltage interlock, contractor control, and external communication whereas the slave controller (BMB-Battery Monitoring Boards) is responsible for cell voltage and temperature detection and reports to the BMU.

The BMU has a dual-MCU(Motor Control Unit) design, with a primary and secondary MCU, with the secondary MCU able to detect the working status of the main MCU and obtain control if it is found to be invalid.

Tesla Model-S BMS

Source: Circuit Digest, Tesla-info, manlybatteries

The BMS used by Tesla in Model-S is based around Texas Instruments' Battery Monitoring integrated circuits. The BMS is integrated into every module and monitors the battery life, temperature, and charge-discharge cycle of cells. It is a stackable Battery Monitoring System and uses a High-Speed Serial Peripheral Interface (SPI) for Data Communications.

Other than looking after the battery and managing charging, it also works out the available amount of energy stored in the battery and in turn the number of miles that energy can drive the car for. It does this by using an algorithm that adapts over time, constantly updating itself based on data points it collects from stable battery readings.
Types of BMS
Source: Esmito
Battery Management System can be categorised depending on the type of circuit design, topology and the voltage range.
Based on Design

PCM (Protection Circuit Model) is an electronic circuit which protects every single cell in the lithium battery pack against extremely high and low values of voltage, current and temperature.
BMS (Battery Management System) is a more sophisticated and intelligent protection circuit, incorporating additional modules like control circuitry and display modules.

Based on Topology

Centralised BMS has a single board, comprising a centralised controller and a smart circuit for all the operations and internal communication. The centralised controller performs the functions of monitoring, maintaining cell voltages, temperature and cell balancing.
In Decentralised BMS, the cell monitoring and smart circuit board are part of different assembly units. There are two approaches, namely modular and master slave, for implementation of this kind of BMS. This topology ensures higher reliability compared to the centralised BMS.

Based on Voltage

Low Voltage (LV) Battery management System comprises low voltage class 1 which is less than or equal to 60 V DC.
High Voltage(HV) Battery management System comprises high voltage class 2 which is less than or equal to 900 V DC and high voltage class 3 which is less than or equal to 1500 V DC.
Battery & BMS OEMs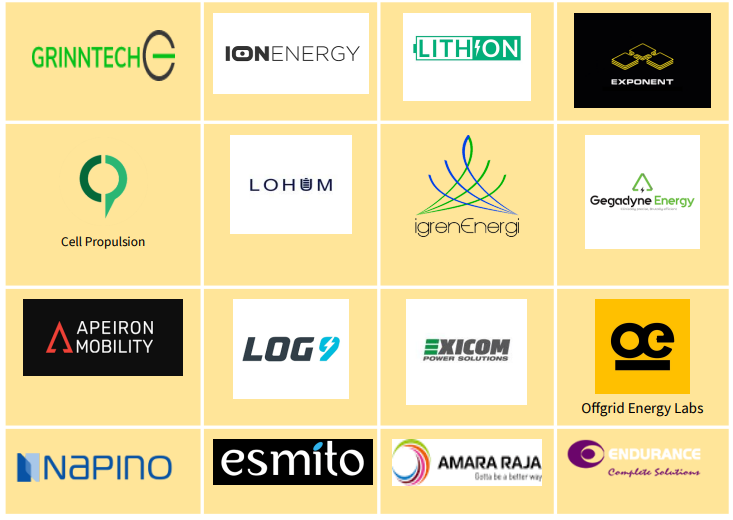 Recent Tech Developments
Texas Instruments (USA) has announced its new wireless battery management system (BMS) solution for electric vehicles.

AmpereHour Energy (India) has released MoviGEN, a new lithium-ion-based, mobile energy storage system. The system is scalable and can provide clean energy for applications such as on-demand EV charging, remote construction sites, and large-scale outdoor events.

Xing Mobility (Taiwan) has introduced a new battery system with immersion cooling. It combines a battery pack with a battery management system and an active safety module.

New i-BMS Battery Management System by Sensata (USA) Enables Battery Hot Swapping to minimise Charging Time for Low Voltage EVs

Simple Energy (India) has developed a proprietary Battery Management System (BMS) that enables the electric powertrain to achieve 95% efficiency
Recent Deals in India
July 2022: Automotive tech company Pricol has announced a technology partnership with BMS PowerSafe, a part of the Startec Energy Group to manufacture Battery Management System (BMS) for Electric vehicles across all segments.

June 2022: Okinawa Autotech To Adopt NITI Aayog's Open-BMS Solution For EVs

June 2022: The GST rates on lithium-ion battery packs have been reduced by the government from 18% to 5%, in an effort to increase EV adoption.

May 2022: Tata Group readying plan for battery company in India, abroad to deepen its push to build electric vehicles

May 2022: Endurance Technologies to acquire ION Energy's BMS unit

May 2022: Marelli launches wireless distributed battery management system for EVs