Imagine hopping on a bus that doesn't rumble with a noisy engine, doesn't emit clouds of exhaust, and doesn't rely on fossil fuels. Instead, it glides through the streets silently, powered by clean and sustainable electricity. Yes, we're diving headfirst into the remarkable realm of electric buses – the next big revolution in urban transportation!
Electric buses have become more than just a novelty in recent years – they have become a necessity. As we face the challenges of climate change and air pollution, it is crucial to reimagine our transportation systems and prioritize sustainable alternatives.
Why Electrify City Buses?
As the upfront cost of an EV is more than an ICE vehicle, fleet operators with regular and high utilization stand to benefit from lower operating & maintenance costs resulting from economies of scale. City buses, with fixed routes that cover large areas, eminently fit the bill.
Buses ply in urban environments where noise and air pollution are major issues. Electric buses solve for both as they generate much less noise and have zero tailpipe emissions.
India, in comparison to nations like Brazil, Mexico, and China, requires 300,000 new buses to accommodate its quickly expanding population. This offers a chance to switch from diesel-powered buses to cleaner electric vehicles.
Source: WRI Report on Electric Buses
Only 4,909 of the 12,15,397 total buses in India are electric buses, making about 0.4% of the total.

The two most common bus lengths in India are the 9 m (Midi) bus and the 12 m (Standard) bus. Due to their lower CAPEX costs and narrower streets in cities, 9m buses were favored by most cities.
Source: Vahan Sewa, UNESCAP
Anatomy of an Electric Bus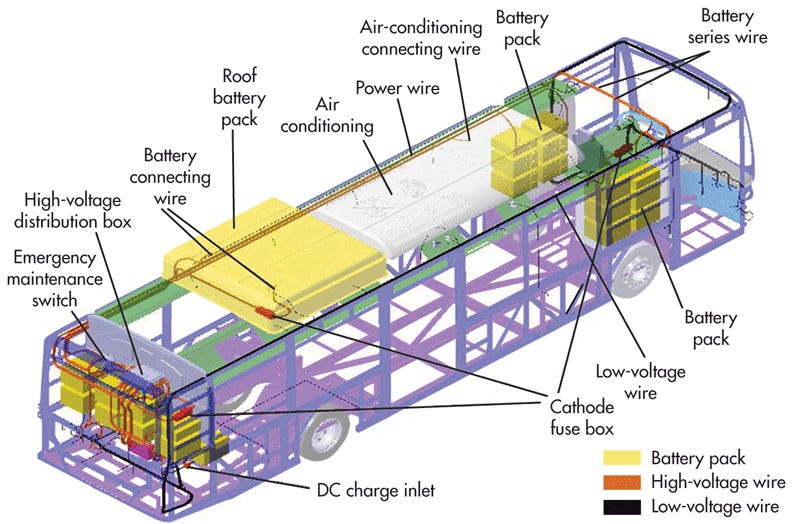 Source: Research gate
Battery
The battery in the eBus may be placed either on the floorboard or on the roof of the chassis
Lithium-ion batteries are crucial for electric vehicles, with energy consumption primarily influenced by vehicle weight. In the e-bus segment, competition for the highest energy density is fierce.
Should have high energy density (to provide a long driving range) & high power density (to increase the acceleration)
Currently, lithium iron phosphate (LFP), lithium titanium oxide (LTO) and lithium nickel manganese cobalt oxide (NMC) dominate the Electric bus batteries
Comparison of a 12-metre e-bus range after 10 years of use, when NMC or LTO batteries are installed. (2021 research)
Clearly from the above, NMC wins the race as it offers both high energy density and ability to fast charge, making it suitable for both opportunity and depot charging (see below).
LTO offers high charging power but low energy density, and is only suitable for opportunity charging. LFP is more feasible in slow-charging situations.
Source: BMZ Poland
Charging Methods for Electric Buses in India
Depot Charging is typically slow-charging done overnight when the buses are not plying and does not require additional charging infrastructure en-route.
Opportunity Charging involves fast-charging during short stops en-route and enables smaller battery packs in buses, but requires conveniently located charging stations.
Plug-in charging is the primary method for charging e-buses globally, with AC or DC outputs.
Pantograph charging uses an automated system for DC charging at high power levels. The e-bus must be designed with specific battery chemistries for high resilience.
Other charging techniques, such as wireless and battery swapping, have been applied, but their adoption remains pilot-level and empirical research on trade-offs is not encouraging.
Source: WRI India
What are the economics (TCO) of an electric bus in India
The focus on electrification of the public transport bus fleets is essential for future-proofing long-term capital investment decisions.
However, for a typical daily utilization of 200km, electric buses currently have a higher TCO per km than diesel (low-cost models) and CNG-fueled buses.
The TCO per km for electric buses is INR 60.47, as compared to INR 69.28 for high-end diesel buses and INR 44.30 for low-cost diesel buses.
Source: WRI India
Key Electric Bus OEMs in India
Source: Vehicle info (Feb 23)
Deals & Developments in the eBus space
July 2023: JBM Auto and its subsidiaries have won orders for approximately 5,000 electric buses for supplying to various STUs & leading corporates
Do write in to us with topics in Climate-tech, Mobility, and New Energy that you'd like us to cover in future editions.