This month we take a look at one of the most important drivers for EV adoption in India – the policy framework. India has shown foresight in its policy making for electric mobility, and we hope the execution can keep up as well. We also shine the spotlight on one of the leading use-cases for EVs in India today – last-mile logistics. We also feature a Guest Column this month which adds an industry perspective to how to innovate for Indian road conditions. You will also find our updated EV Ecosystem Map as well as regular sections on Deals & Trends and EV Sales Tracker. So let's dive right in!
The Indian EV Policy Framework
Several government ministries and departments, both at the central and state level, are supporting this mobility transformation. Due to the complexity and criticality of such a transition, several departments and agencies are involved.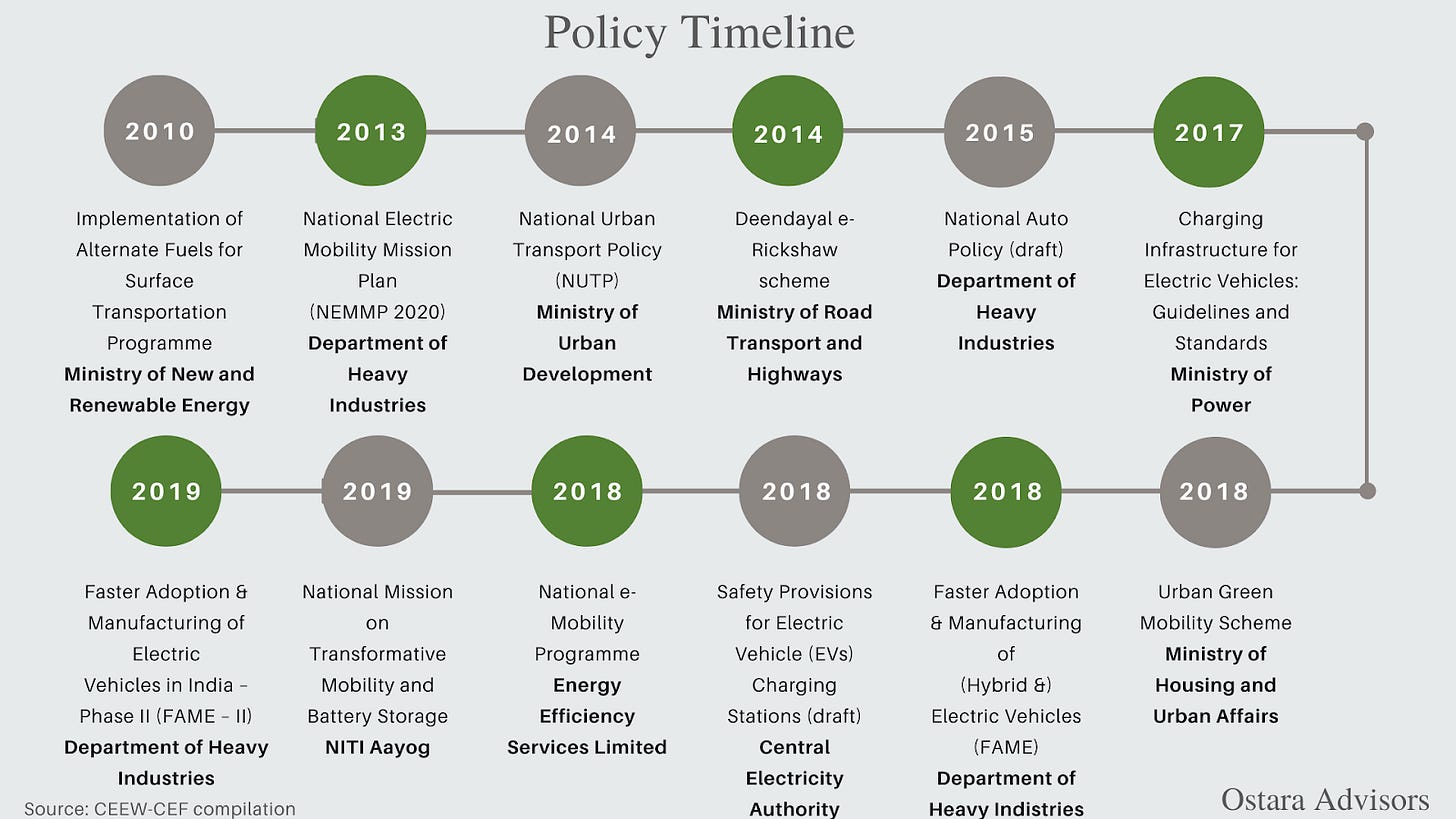 The FAME I and II schemes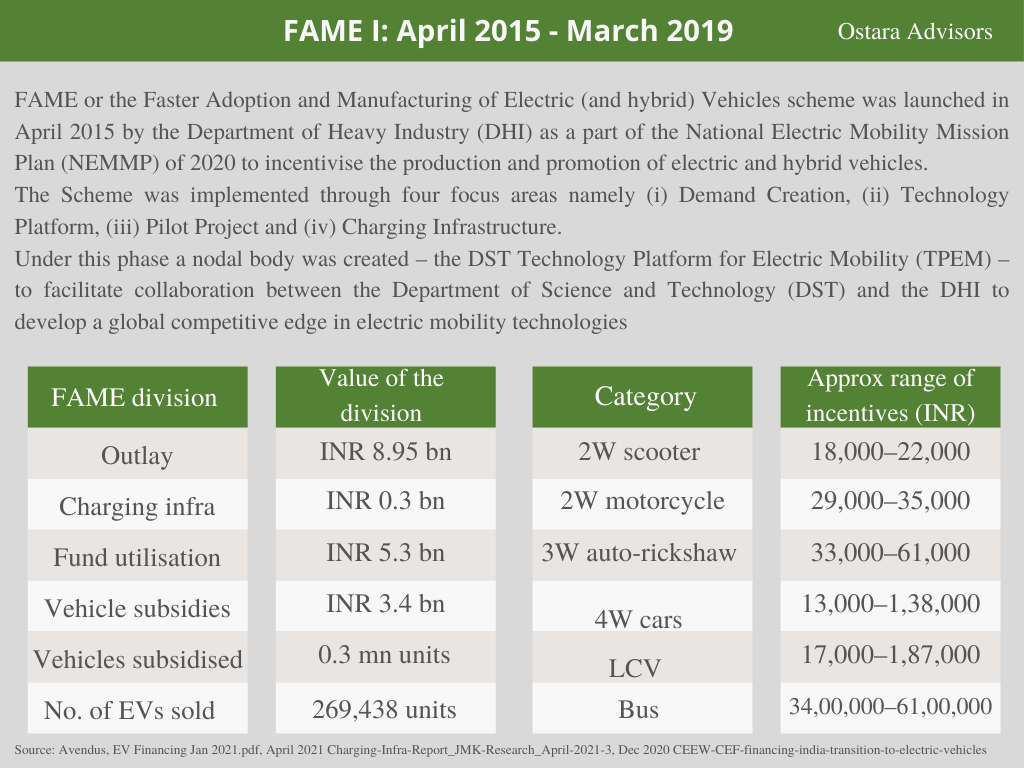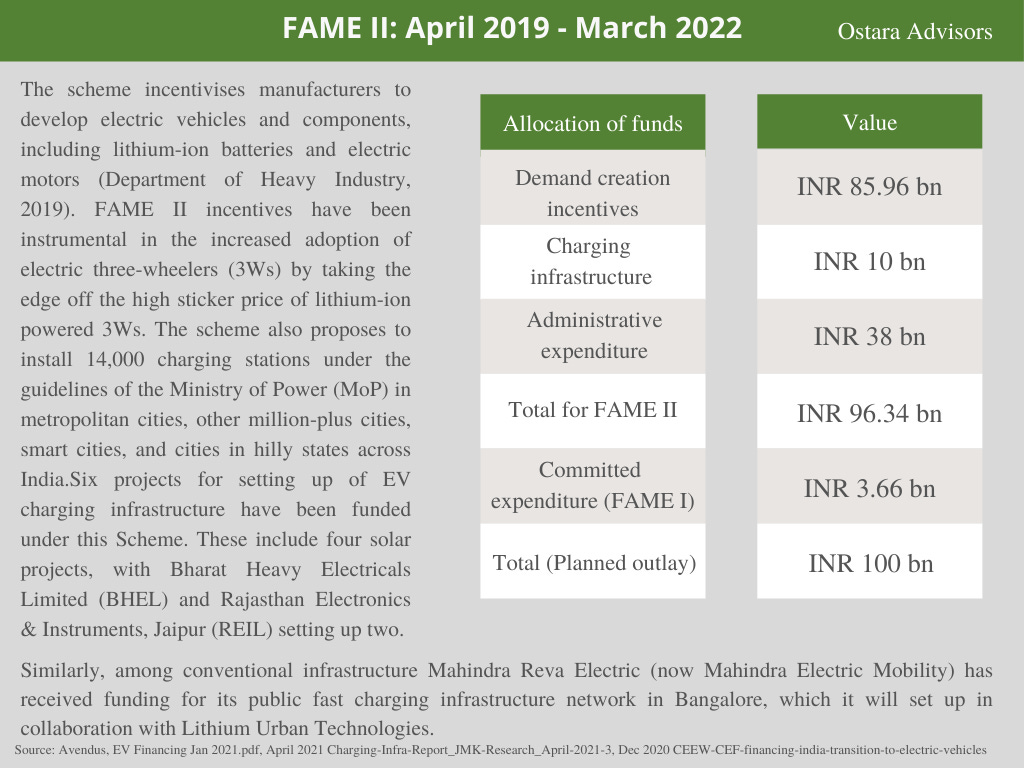 The PLI scheme
The Indian Government introduced a Production Linked Incentive (PLI) scheme in April 2020 for large-scale electronics. In November 2020, the PLI scheme was extended to 10 more sectors including battery storage and automobile components. The proposal of the Department of Heavy Industry for the implementation of the Production Linked Incentive (PLI) scheme for National Programme on Advanced Chemistry Cell (ACC) Battery Storage was also approved by GOIThe scheme aims to provide incentives to companies on incremental sales from products manufactured in domestic units. It encourages foreign companies to set up units as well as local companies to set up or expand their production.
The Auto and auto component industry received the largest share with an amount of INR 57,042 CroreThere is a planned outlay of ₹18,100 crore for domestic manufacturing of Advanced Chemistry Cell (ACC) battery storage to promote manufacturing, export and storage of lithium-ion cells, essential for electric mobility. The aim is to install a manufacturing capacity of 50 gigawatt hour (GWh) of Advanced Chemistry Cells (ACC) and 5GWh capacity of "Niche" ACC.
Who Qualifies?
Manufacturers would have to set up a manufacturing facility with a minimum capacity of 5GWh and will have to show a minimum investment of ₹225 crore per GWh within two years. Subsequently, the battery or cell manufacturer will have to achieve a domestic value addition of 25% and raise it to 60% domestic value addition within 5 years either at the mother unit, in-case of an integrated unit, or at the project level, in-case of hub & spoke structure.
Tata Chemicals Ltd, a Tata group company, is expected to set up lithium-cell manufacturing capacity in Gujarat. The joint venture, TDS Lithium-ion Battery Pvt. Ltd. by Suzuki, Toshiba Corp. and Denso Corp. plans to turn their joint manufacturing facility for lithium-ion cells in Gujarat into a global export hub.
Source : Indianexpress, livemint,business-standard, EV Reporter-June 2021 magazine
EVs for intra-city logistics: a brief introduction
EV adoption in India has received a huge boost from the last-mile logistics needs of e-commerce, food delivery etc. EVs have been able to provide sustainable and efficient models, which offer a cost-benefit over ICE vehicles.
The road express market, which is a key transport mode for the E-Commerce sector, is expected to grow at 15% to 16% a year and reach USD 25 billion by 2025.
The Cargo segment has the following specific requirements from an EV:
High payload capability of 500kg and upwards
Ability to operate in extreme temperature, weather and road conditions
Lower TCO as compared to ICE small and light commercial vehicles (S & LCVs)
Longer Range on a single charge
Models: There are mainly three types of EVs currently used in last mile applications:
Electric two-wheelers: these are mainly used in last-mile delivery and offer huge efficiencies in cost and range (on a single charge)
L5N three-wheeler: has a maximum speed exceeding 25 kmph and motor power exceeding 0.25 kW. Gross Vehicle Weight (GVW) is limited to 1500 kg (excluding the weight of traction batteries).
L3 three-wheelers or e-carts – Speed less than 25km/h and motor power less than 2 kW. Such vehicles are constructed or adapted for carrying goods by providing a separate load body or compartment with the maximum weight 310 kg in addition to driver.
4 wheeler LCV(Light Commercial Vehicles)– India will see a few launches over the next 12-18 months in this space, they should have a load carrying capacity of 1 tonne and above

Source : Evreporter-An-Overview-of-Electric-3Ws-in-Indias-Last-mile-Delivery-Space, theicct.org-India-2W-fuel-consumption, Spireresearch: White-Paper_India-E-Commerce-Logistics-Industry
Guest Column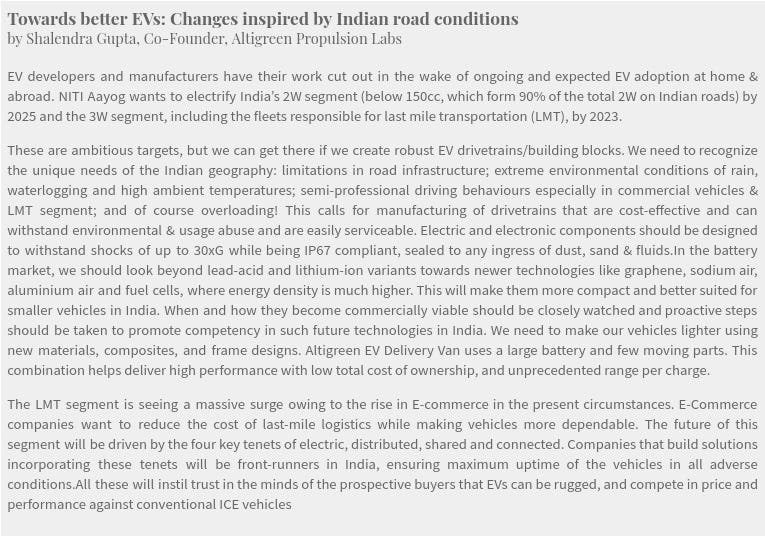 Indian EV Ecosystem Map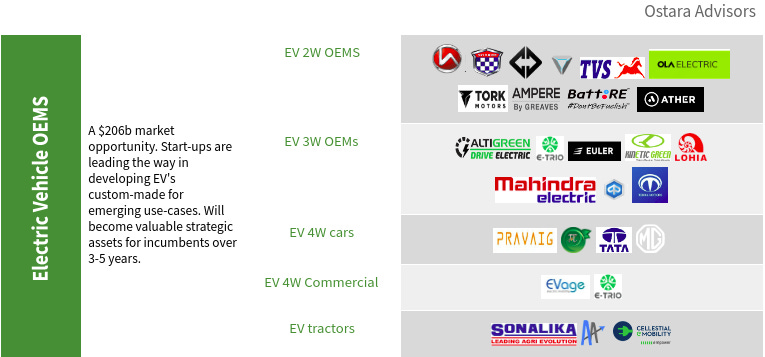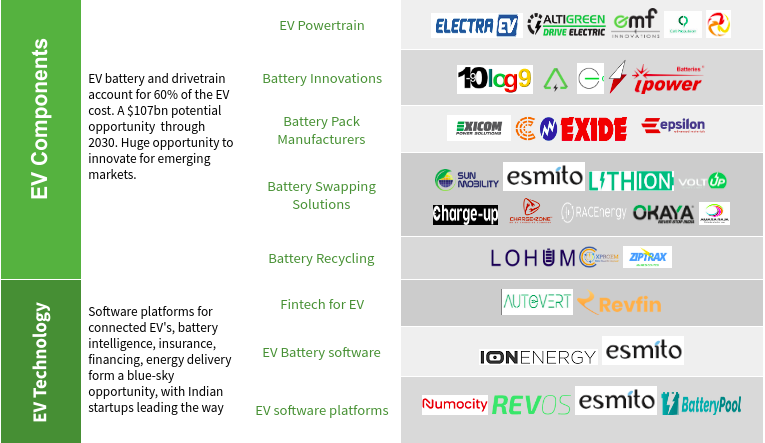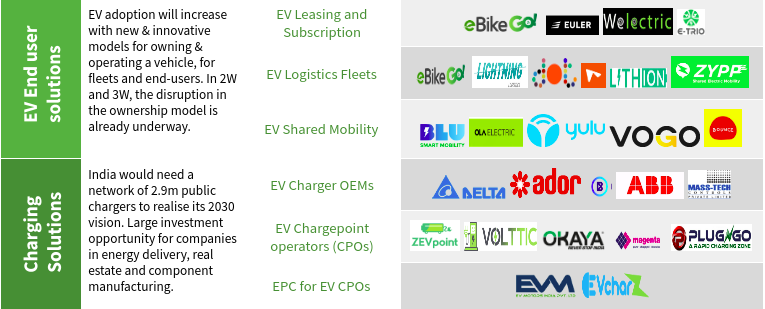 EV Sales Tracker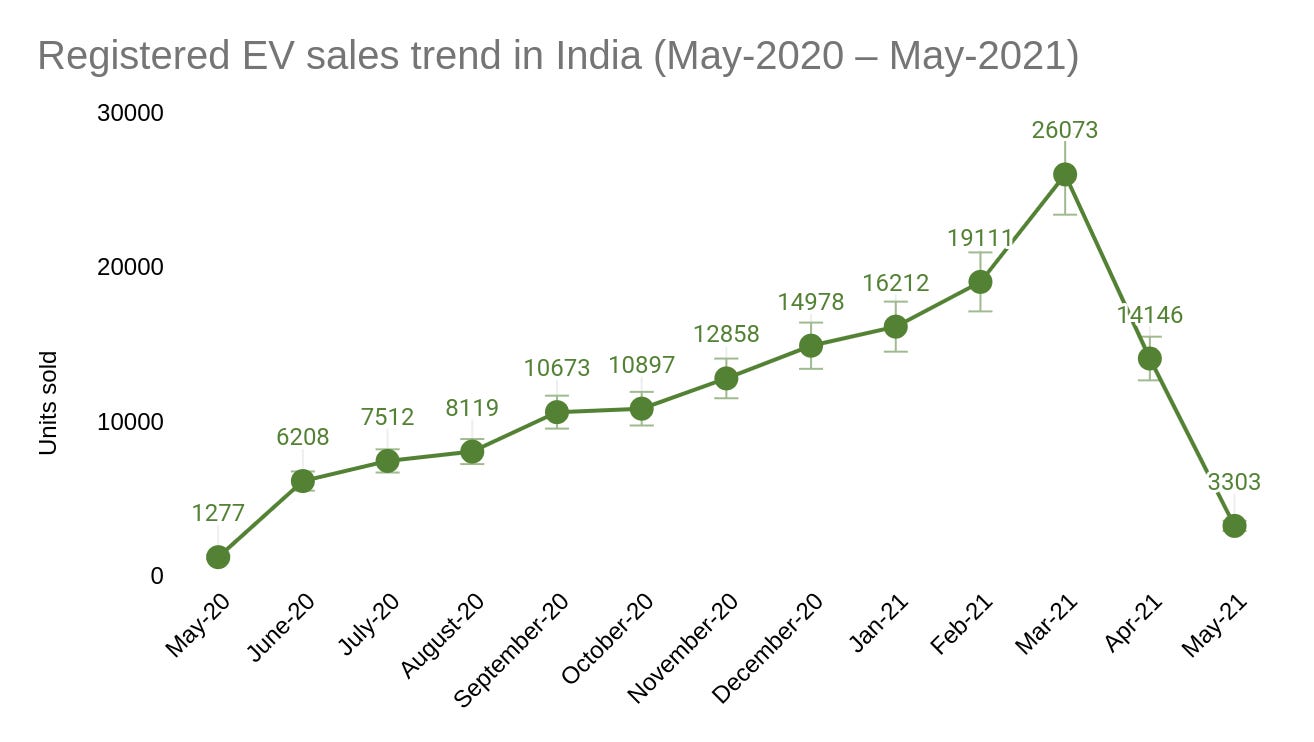 Source: jmkresearch-monthly-ev-update-may-2021
EV trends and deals
GLOBAL
INDIA
About Ostara Advisors:
Ostara Advisors (formerly Dhruva Advisors) is India's first e-mobility and sustainability-focused boutique investment banking firm. Our focus sectors are Electric Vehicles, IoT & Automation, CleanTech, and Renewable Energy. The firm was founded in 2015 by Vasudha Madhavan, who is one of the first investment bankers in India to specialise in Electric Mobility, having advised clients in this space since 2017. Marquee deals include advising on India's first Electric Vehicle two-wheeler M&A, where she represented Greaves Cotton Ltd. on their acquisition of pioneering EV 2W maker, Ampere Vehicles.
CopyrightOstara Advisors 2021, All rights reserved Bangalore, India