India has about 330m* motor vehicles on its roads today, ~83% of which are two-wheelers (2W) and three-wheelers (3W), which have also been among the fastest growing segments over the past decade. Average trip lengths in India tend to be shorter than those in the developed world, primarily due to higher urban densities.
If we overlay these factors on the emerging EV market in India, we essentially see the need for a flexible, local 'energy-as-a-service' ecosystem – where smaller, more affordable EVs can get quick and convenient access to charging and swapping solutions. Battery swapping can offer a 're-fuelling' experience similar to a petrol 2W. It takes only a few minutes and can be done manually for small vehicles as they have light batteries.
Battery Swapping: a consumer perspective
In battery swapping, a discharged battery in a vehicle is replaced with a charged one. The discharged battery is then separately charged in a controlled environment.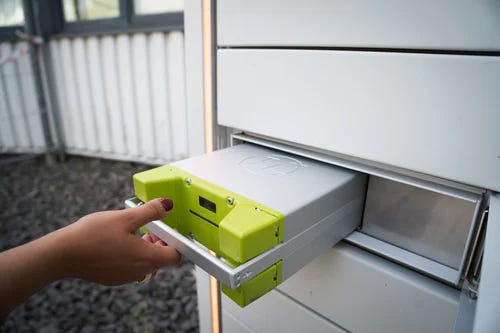 The Indian consumer is price-sensitive. Battery Swapping can help reduce upfront vehicle cost (capex) as well as operating cost (opex) as the EV, which is sold without the battery and hence is cheaper, relies on a swapping network for its operation. In this scenario, the total cost of ownership (TCO), a key driver of EV adoption in India, can be upto 50% lower than that of a fossil fuel-powered vehicle.
A typical 3W driver buys fuel (petrol or CNG) for INR 300-400/day and drives 100-150 km a day. Electric 3W operators will be able to rent a fully charged battery (2.5 kWh or 5 kWh) for Rs.120-150 and drive ~100 km.
Swap Station Economics
The cost of setting up a battery swap station in India could range from Rs. 0.1 million for a station that can hold up to 20 small battery packs replaced manually, to Rs. 37 million for an automated one that serves cars and contains multiple large battery packs.
The Battery Swapping Market in India
The battery swapping operators in India currently serve the 2W and 3W markets. We expect these to remain the predominant markets for hyperlocal battery swapping in India. Our estimate of the annual market size for 2W and 3W battery swapping in India in 2025 is $5.78b.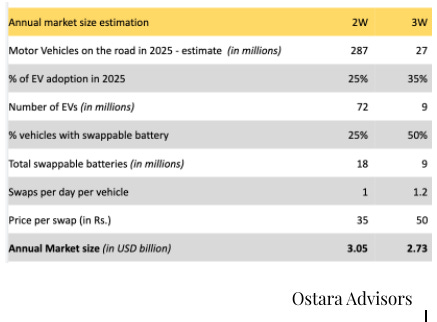 The role of technology in Battery swapping
Swap Station tech: connects different battery types with the swap-station for State-of-charge (SoC) assessment, inter-operability, and charging
Demand and Supply across swap stations: Data from the batteries & EVs on a swap operator's network can predict upcoming demand and match it with availability of charged batteries.
Energy Pricing tech at swap stations: Technology can enable smart charging of batteries at off-peak hours to reduce energy costs.
Key players in the Indian battery-as-a-service space

Guest Column
Battery Swapping: Rethinking regulations

by Aditya Ramji
Battery Swapping serves as a trade-off between a larger battery (i.e. higher range & cost) and a cheaper EV (as the EV can be sold minus the battery).

The fundamental definition of a 'public charger' will need to account for swapping stations, as it may be critical in deciding eligibility for government incentives on land, equipment, and tariffs. Electricity regulators and utilities will also have to reconsider regulations and incentives for battery swapping stations.
Swapping operators need to factor in fixed costs of wiring or cabling similar to DC/AC fixed charging stations, given that they may require fast-charging in case of higher battery swap turnover.
Battery swap at a local store

While stand-alone EV swap-stations can be monitored, power utilities would have to ensure separate meters and tamper-proof connections with lower tariffs for small-scale local swapping operators, as being envisaged for electric 2W & 3W.
While these are just a few considerations, battery swapping has merit in emerging market use-cases, and a streamlined ecosystem & regulatory framework will drive greater consumer confidence and design innovation in swapping models.
Aditya Ramji is an Economist, focusing on transportation decarbonisation and energy transitions. He is currently at the Institute of Transportation Studies (ITS), University of California, Davis, and associated with the Center for Technology and Policy, IIT-Madras, India.
Asian Benchmarks in Battery-swapping
EV battery swapping for the two- and three-wheeler market is currently registering the highest growth rates in Asia-Pacific. We profile 2 leading players who have scaled up in this space.
Gogoro, Taiwan:
Gogoro is a leading battery swap provider and electric 2W maker, more than 400,000 riders and 2,100 battery swapping stations.
Known for its innovation in ultra-smart batteries and swapping stations for electric 2Ws.
In August 2021, the company surpassed 200 million battery swaps since its 2015 launch.
Together with its vehicle partners, Gogoro-powered vehicles account for nearly 97% of all electric scooters sold in Taiwan.
Strategic partnership announced with Hero MotoCorp, India.
Total funding raised: $480m.
NIO, China:
Founded in 2014, NIO started building smart vehicles & creating innovative charging solutions.
NIO's suite of EV energy solutions include the NIO Power Swap (a 3min fully automatic battery swap), NIO Power Charger (for fast charging any EV) and NIO Mobile (portable power bank for a car)
As of July 2021, NIO had built 301 Power Swap stations in 59 cities across China and served about 800,000 battery swaps for its customers.
NIO aims to have 700 swapping stations by the end of 2021 and 4000 stations globally by 2025.
The automaker recently picked Norway as its first market after China, including its battery swap offering.
Total funding raised: $5.4b over 10 rounds.
Key fund-raises by Indian Battery Swapping companies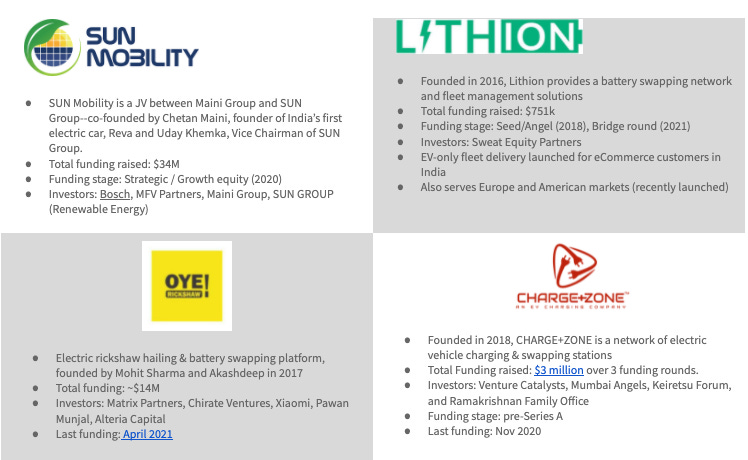 Notable Global funding in the Battery swapping space

Sources:
*Ministry of Road Transport and Highways, Ostara Advisors estimates, On Accelerating Electric mobility In india – A report by IIT Madras (CBEEV) & WRI India, Company websites of all the specific companies mentioned
Credits: We would like to thank Hasan Ali (Esmito), Akshay Kashyap & Varun Goenka (ChargeUp) and Vishnu Rajeev (Micelio) for their valuable inputs for this edition of "All about EVs"
About Ostara Advisors:
Ostara Advisors (formerly Dhruva Advisors) is India's first electric mobility and sustainability-focused boutique investment banking firm. Our focus sectors are Electric Vehicles, IoT & Automation, CleanTech, and Renewable Energy. The firm was founded in 2015 by Vasudha Madhavan, who is one of the first investment bankers in India to specialise in Electric Mobility. Marquee deals include advising on India's first Electric Vehicle two-wheeler M&A, where she represented Greaves Cotton Ltd. on their acquisition of pioneering EV 2W maker, Ampere Vehicles.
Copyright Ostara Advisors 2021, All rights reserved Bangalore, India