2021 was a transformational year for Ostara Advisors.
We made public, for the first time, a thesis we had been working on since 2018. That the automotive and energy sectors in India and globally are fundamentally transforming and require a deeper understanding of emerging business models to catalyse global capital flows into these sectors.
Today, Ostara is India's first and only investment bank focused entirely on mobility, new energy and sustainability. We have advised leading startups and companies in the Indian and Global Electric Mobility ecosystem on their fund-raise and M&A strategies. We are, by far, the most prolific investment banking firm in this sector in India today with successful engagements across 2 & 3W OEMs, electric vehicle components, advanced battery technology, charging networks and more.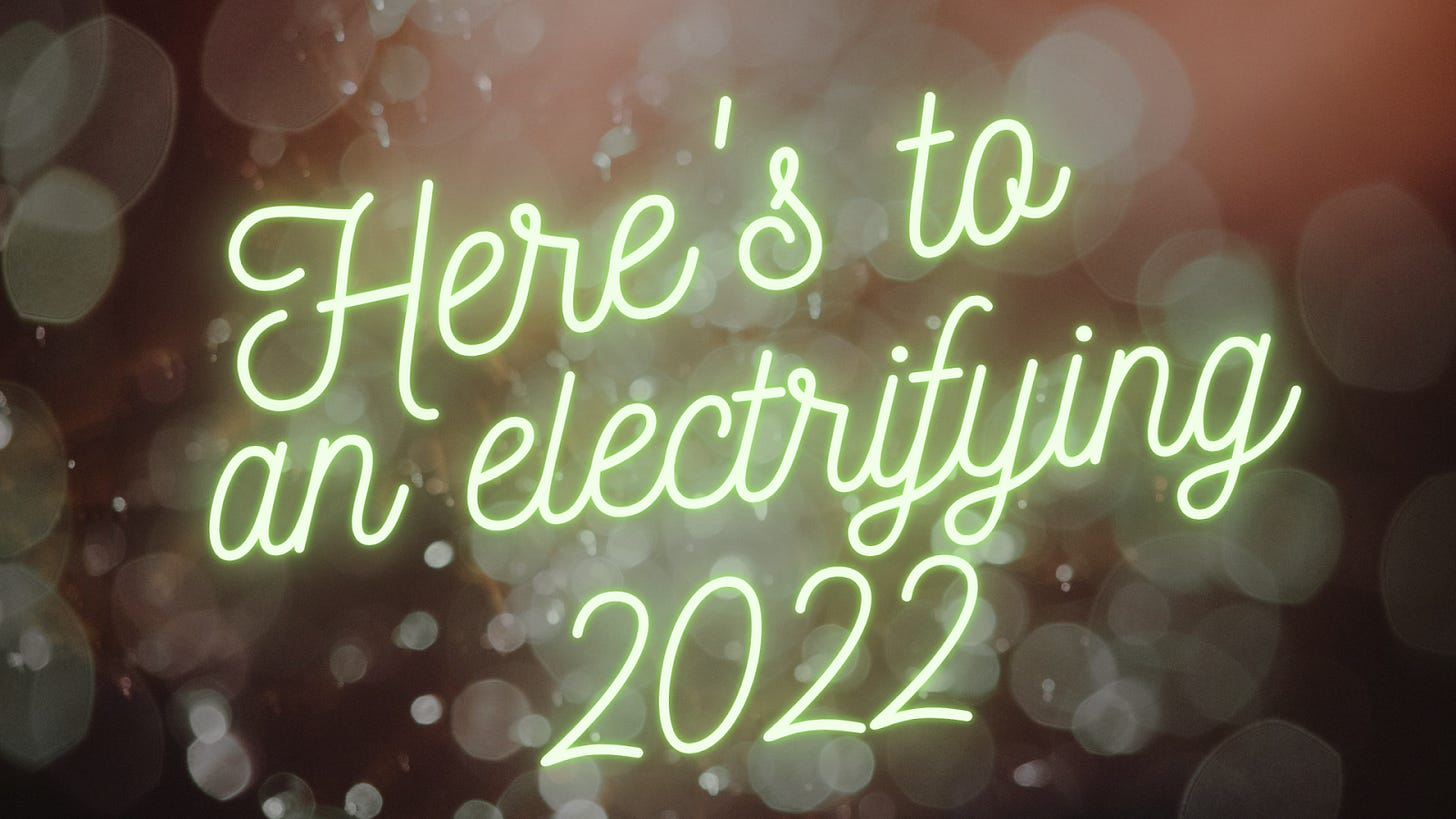 In this edition of the Ostara Newsletter, we take a look at the year that was and share with you some of our insights on the Indian and Global EV ecosystem.
Venture capital flows into Electric Mobility in India take off!
A total of $1.7B was invested in this space in India in 2021, almost 7x of the funding in 2020 and 3x of that in 2019.
The largest deal was Tata Motors Limited raising $1B from TPG Rise Climate and ADQ for their Passenger EV business.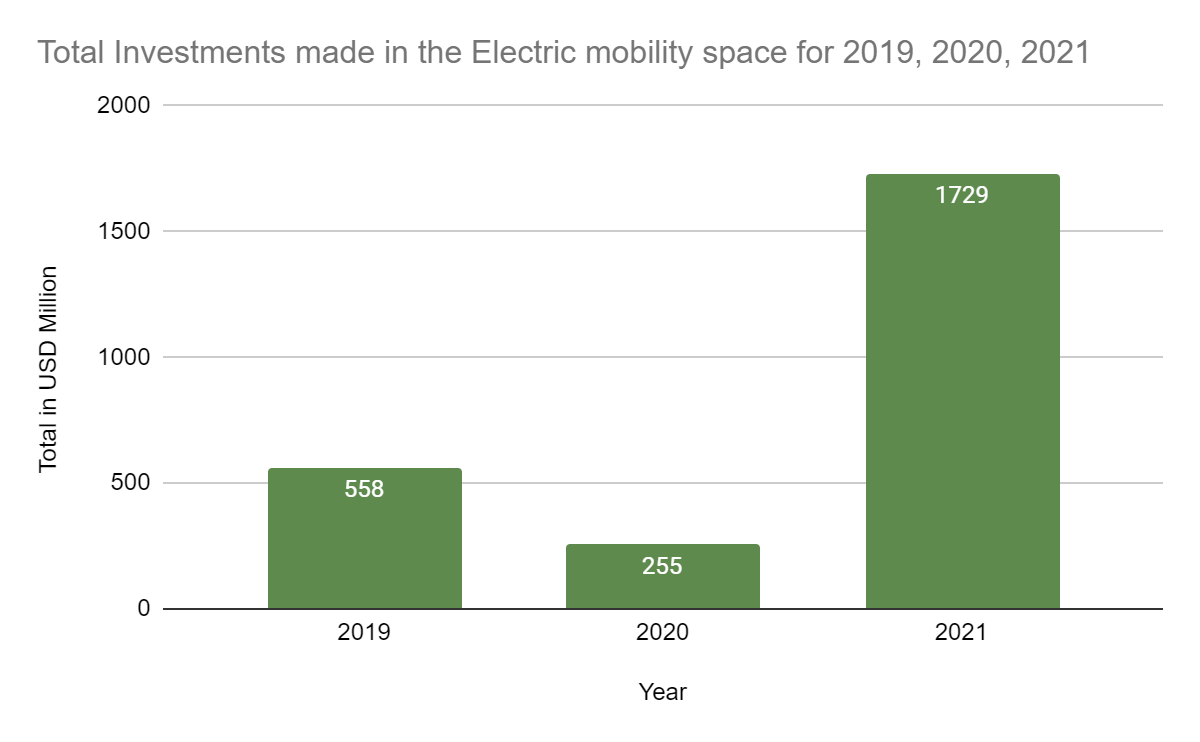 Source: Ostara Research
We did a deep dive into the funds raised across various segments of the EV Ecosystem. In 2021, EV OEMs in India took the lion's share of the venture capital flows accounting for 90% of the total capital raised. Battery swapping, charging and EV end-user solutions formed about 8% of the pie, followed by EV components and technology.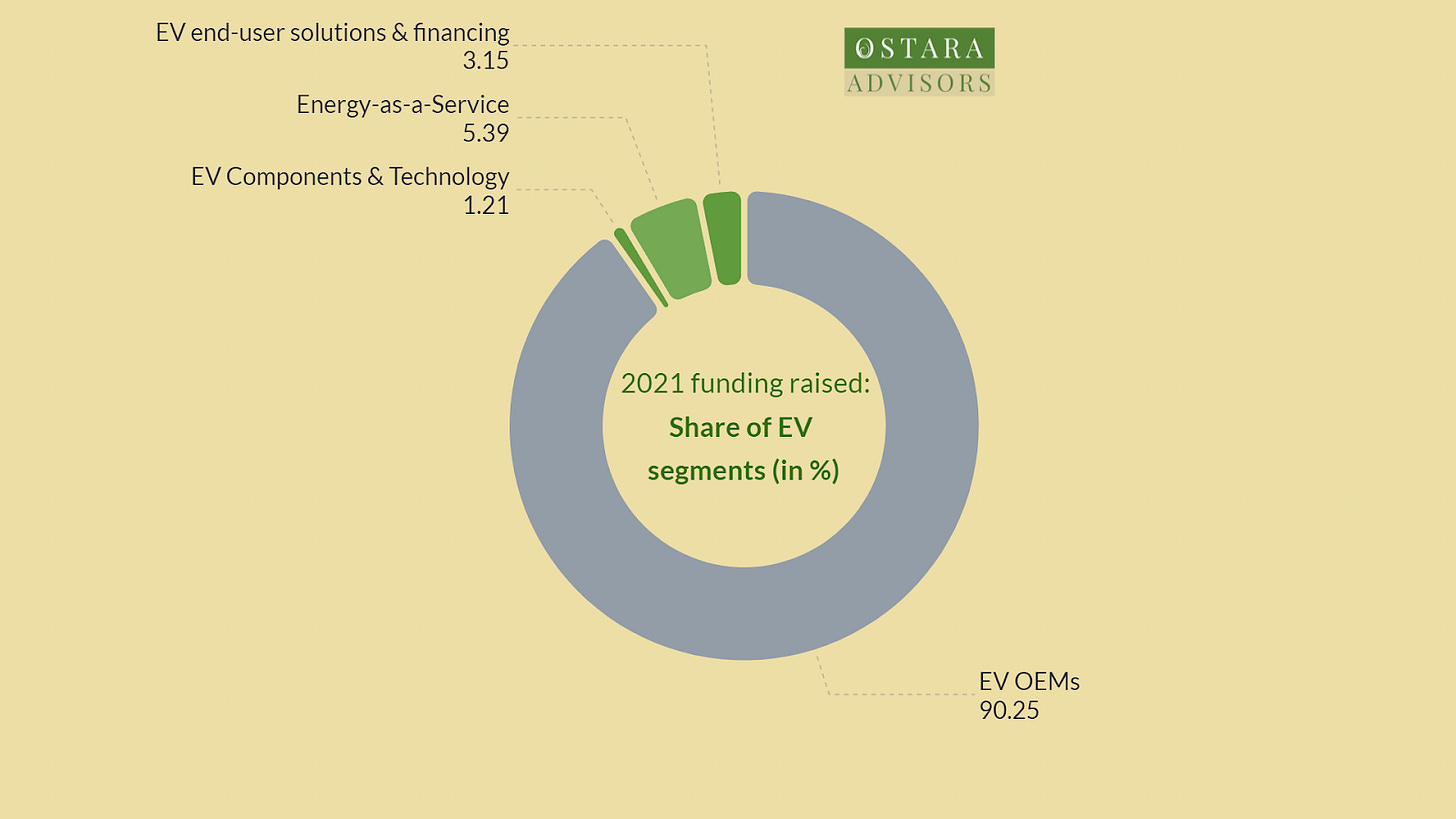 Interesting developments in India in 2021:
A total of 41 new EV 2W models, 3 EV 3W models and 9 EV 4W models were launched in India this year. (Source: JMK Research)
BBK Electronics-owned smartphone brands like OPPO, Realme, and OnePlus are planning to launch electric vehicles in India. The first to launch may possibly be an Oppo EV by early-2024!
Indian 2W major and the largest 2W manufacturer in the world, Hero MotoCorp, announced that it will be launching its first battery-powered scooter in the Indian market by March 2022.
In December 2021, Bounce became the first EV 2W maker in India to launch scooters with a swappable battery, enabled by its own swap network.
eBikeGo, an electric two-wheeler mobility firm, has acquired the rights to manufacture Velocipedo, an electric trike in India, from Spanish automotive company Torrot. With this, eBikeGo will enter the premium electric three-wheeler industry.
In March 2021, Ola Electric, the EV subsidiary of the Indian ride-hailing unicorn, announced that it would be setting up the world's largest electric scooter plant in Hosur at a cost of US$330 million, and aiming to produce 2 million units a year.
EV Sales in 2021 in India
Electric Vehicle sales saw a 133% growth from FY15 to FY20, as stated by e-Amrit, a Govt. platform to track electric mobility activity in India.
3,07,402 EVs were registered in India in 2021, of which 2Ws accounted for 47%, 3Ws for 48% , 4Ws for 3.4% and goods vehicles accounted for 0.75% of total EV registrations. The graph below depicts the sales trend over the past 3 years.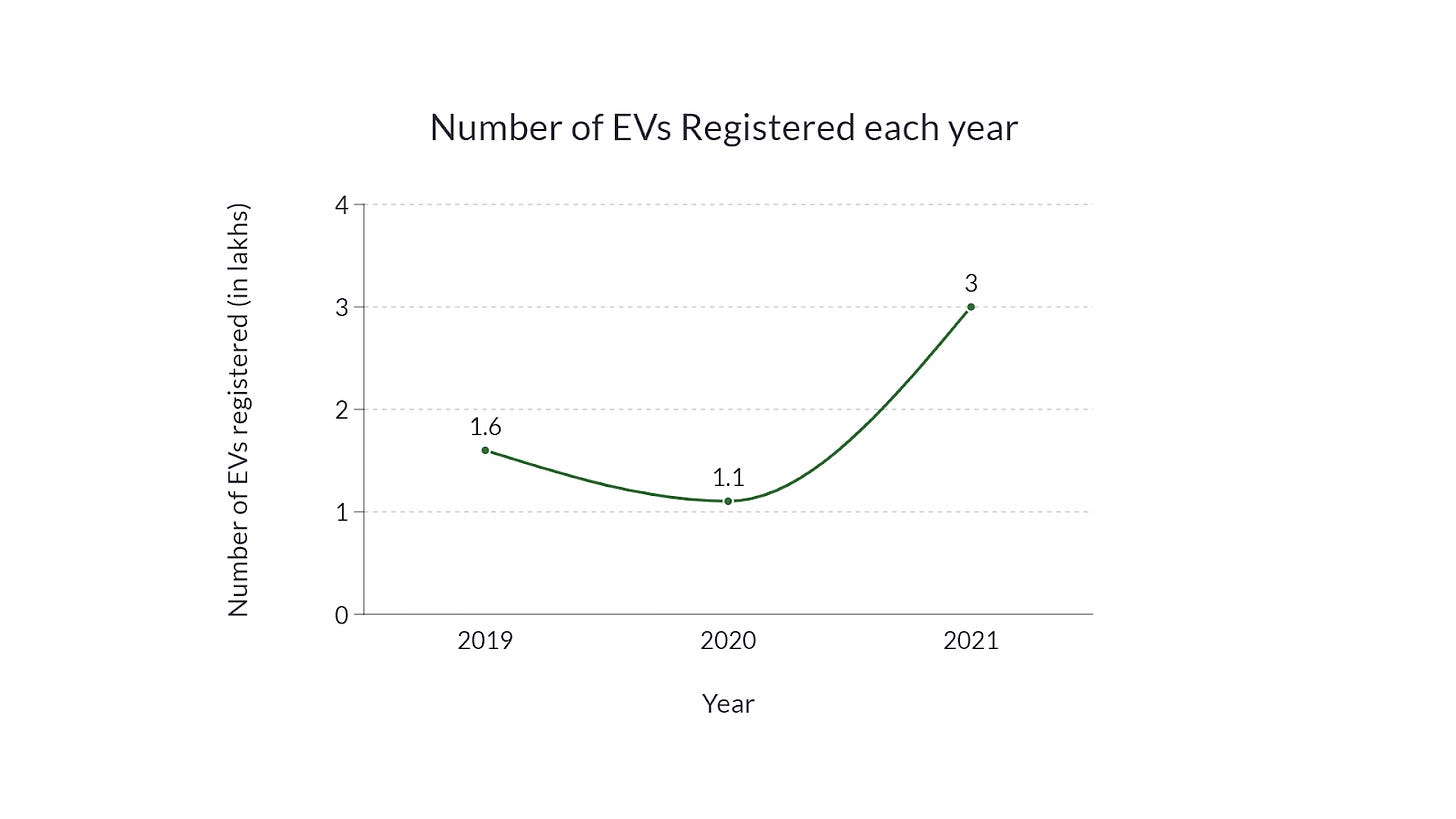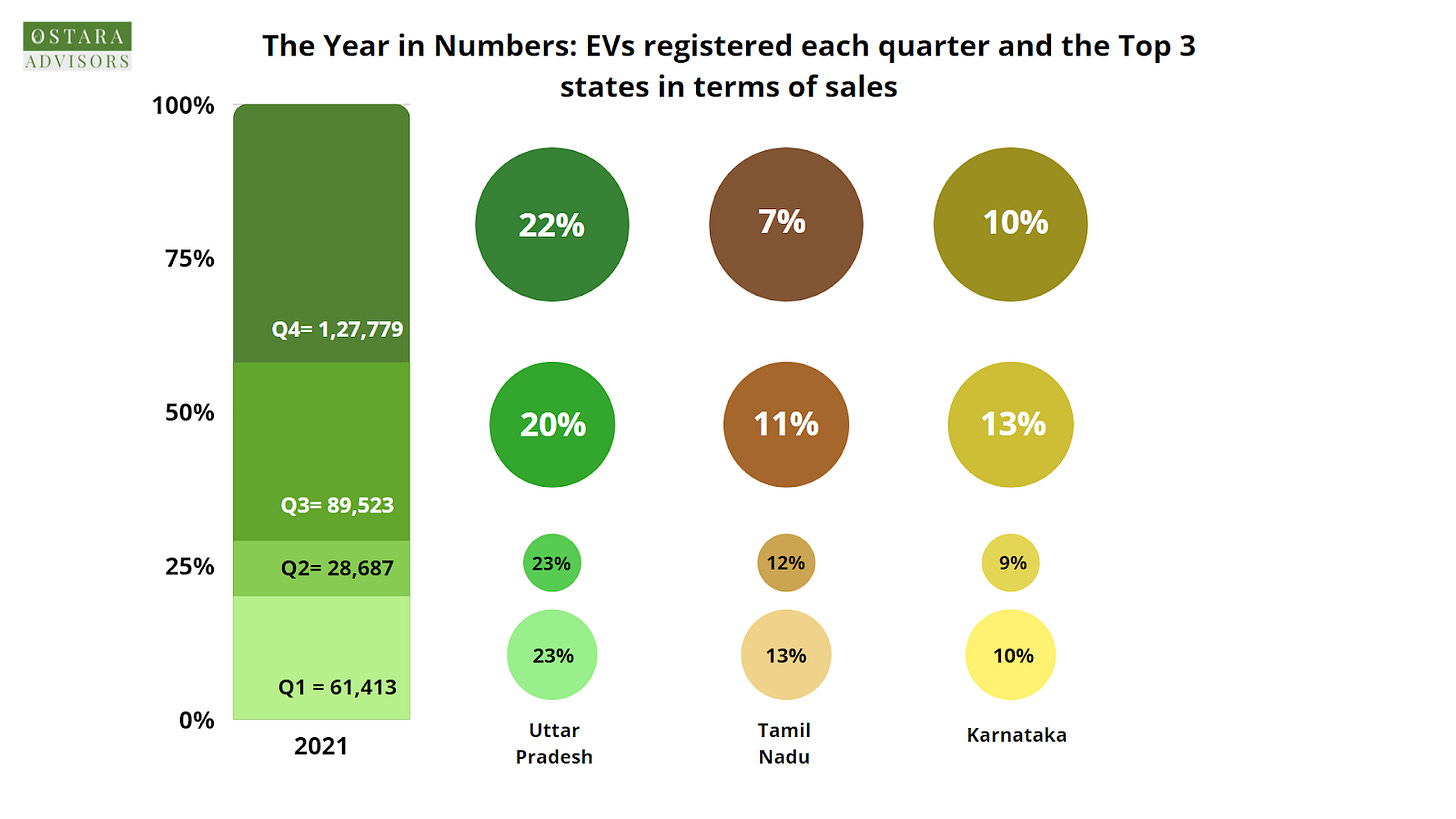 Sources: E-Amrit, Vahan Dashboard, CEEW
Infographics: Ostara Advisors
The EV Target for India:
In April 2019, NITI Aayog, the federal think tank, published a report titled "India's Electric Mobility Transformation", which pegs EV sales penetration in India at 70% for commercial cars, 30% for private cars, 40% for buses, and 80% for 2 & 3 wheelers by 2030. These targets, if achieved, could lead to a net reduction of 14 exajoules of energy and 846 million tons of CO2 emissions over the deployed vehicles' lifetime. Electric vehicles sold until 2030 can cumulatively save 474 million tons of oil equivalent over their lifetime, worth US$207.33 billion.
India's 2021 EV Policy round-up
A quick summary of the key policy announcements in India for the Electric Mobility sector during 2021:
Selected State EV policy updates
The State of Maharashtra announced its EV policy in July 2021, aiming at 10% of all new vehicles registered to be electric by 2025. We posted about it here.
West-Bengal announced a 5-year EV acceleration policy. The government plans to have 1 million EVs and 100,000 charging stations during the implementation period.
The State of Karnataka tweaked its EV policy to attract investments, including offering a 15% capital subsidy to EV businesses on value of fixed assets and a production-linked subsidy of 1% on turnover for a period of 5 years for specific EV businesses.
We also wrote about the Indian EV policy framework here last year.
Global deals we tracked in 2021:
EV SPAC listings: ChargePoint (NYSE: CHPT), the Silicon Valley-based EV-charging company and Los Angeles-based shared electric scooter company, Bird (NYSE: BRDS), went public following SPAC mergers.
The largest IPO of 2021 was in the EV space! California-based Electric-truckmaker Rivian Automotive Inc. raised $13.7 billion in its U.S. listing in Nov'21.
European EV OEMs list on US exchanges: UK-based electric van manufacturer Arrival (Nasdaq: ARVL), and Munich-based EV family car maker, Sono Motors also listed on the US stock exchanges in 2021.
Chinese car and battery maker BYD Co. raised $1.8 billion in a Hong Kong share placement, its second such deal in 2021. In January, the Warren Buffett-backed company fetched another $3.9 billion selling new shares.
Vietnam's EV Maker VinFast plans a US IPO in the second half of 2022, it could raise as much as $3 billion from an IPO, and expects to have a post-IPO value of $25 billion to $60 billion.
Global M&A deals in the EV space: Ford Motor Company acquired California-based EV charging management and fleet monitoring software provider Electriphi.
In July 2021, YASA, a British electric motor startup with a revolutionary "axial-flux" motor, was acquired by Mercedes-Benz.
What we wrote about in 2021:
Some of our popular newsletters (and our favorite research) in the past year include our take on EVs and the Energy Grid, our assessment of the Battery Swapping industry in India, our deep-dive into the Electric Motor. We also commented on the transformation in Mobility-as-a-service and the advent of the Hydrogen Fuel cell.
Ostara's Thought Leadership in the Indian EV ecosystem:
In 2021, we were invited to speak at leading Indian and Global Electric Mobility Industry and Investor conferences. Some of the events we spoke at include CII Karnataka's Electric Mobility Conclave 2021, the TiE Global Sustainability Summit 2021, CII WR – IWN WomeNation Summit, IEEMA's EV Supply Chain – Seizing Opportunities" at DIGIELEC BHARAT 2021. Our Founder, Vasudha Madhavan, also moderated the Impact Investors Council's panel on 'Climate Tech Innovations in Sustainable Mobility' at the India Climate Investment Conclave 2021.
Ostara's Take:
2021 saw a huge jump in deal sizes in the Indian EV ecosystem, from sub-$5m family office/angel network rounds at the start of the year to a $1bn fund-raise towards the end of the year. EV OEMs witnessed a 4x jump in funds raised in 2021 over 2019. Start-ups led the way across the entire EV value chain from two- & three-wheeler OEMs to Charging networks to Advanced Battery technologies to Last-mile logistics.

We believe 2022 will be the year of the electric three-wheeler for commercial use-cases and of the electric two-wheeler for both personal mobility and last-mile logistics, given compelling cost advantages for the user. We also see a trend towards greater aggregation of unorganised four-wheeler fleets in India.

We also see 2022 bringing in greater capital flows into EV shared mobility, Energy-as-a-service, Battery technologies & software as well as EV financing.
Here's to an electrifying 2022 from all of us at Ostara!